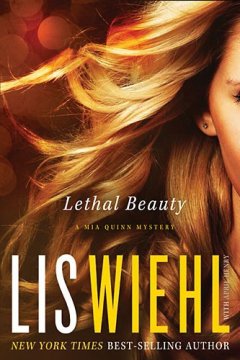 Lethal Beauty
Series: A Mia Quinn Mystery
By Lis Wiehl
WOW I could not put this book down! At first I had a hard time distinguishing between some of the characters because they were Chinese names, but it got easier to tell them apart as the book progressed. This story was high paced, riveting, tragic and intense. I really like the main character Mia which makes me want to read other books in her series. I think she is a wonderful attorney in this story, however, I think she doesn't spend enough time at home with her kids. The book ended well even though it wasn't your typical "happy ending".
I don't know if I could consider it a clean fiction-there wasn't any bad language, but it deals with adult themes like drugs, prostitution and slavery. I was not aware that issues like that still happened in our culture today.
If you are looking for something intriguing and intense, this book would be great for you! I thoroughly enjoyed it!
I received a copy of this ebook complimentary from BookLookBloggers.com in exchange for an honest review on my blog and social media review. All opinions are my own.
Book Description
Mia Quinn discovers that a series of seemingly unrelated murders are linked. How far up are the strings being pulled-and what happens when one of her own is at risk?
The murder Mia is prosecuting seems like an open and shut case-until the accused claims he was the real victim and that the dead girl attacked him first. The tabloids dub her a "lethal beauty." Still, a conviction seems imminent. Then a key witness goes missing. Just when it looks like the killer could walk free, the dead woman's mother takes matters into her own hands.
Meanwhile, Charlie Carlson, a Seattle homicide detective, is investigating the murder of a man whose body washed up on the beach of Puget Sound, but he's got little to go on. He has no dental work, fingerprints aren't on file, and he doesn't match any missing person reports. Then a church pianist is senselessly gunned down before horrified parishioners.
All three cases seem unrelated-but are they? Together, Mia and Charlie race to find the answer before another crime hits too close to home.
About the Author
Lis Wiehl is a New York Times best-selling author, Harvard Law School graduate, and former federal prosecutor. A popular legal analyst and commentator for the Fox News Channel, Wiehl appears weekly on The O'Reilly Factor, Lou Dobbs Tonight, Imus in the Morning, Kelly's Court, and more. Visit her website at www.liswiehlbooks.com Twitter: @LisWiehl Facebook: LisWiehl
You can buy it here: