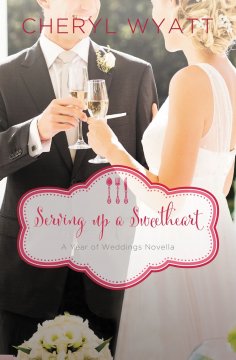 Serving Up a Sweetheart-A February Wedding Story
By Cheryl Wyatt
A Year of Weddings Novella Book 3
I enjoyed this clean, romantic novella with the main characters Meadow and Colin. Meadow and Colin knew each other from high school, but didn't have very good memories of the other person. Many years later, they find themselves working side by side, but can they let go of the past, in hopes of having a future together?
It was a good story and had alot of great Christian elements and scriptures, however I felt like the romantic development was rushed and not realistic for the time frame. Sometimes I've found that problem with Novellas-the story line is rushed because its a short book. Regardless, it was a sweet story and I would recommend it for a quick afternoon read.
I received this ebook complimentary from BookLook Bloggers in exchange for an honest review on my blog and social media. All opinions are my own.
Book Description
They've helped orchestrate the perfect day for countless couples. Now twelve new couples will find themselves in the wedding spotlight in the second Year of Weddings novella collection.
Meadow knows how to serve delicious food to match any wedding theme. But can she accept love when it's served up on a silver platter?
During one of the biggest weeks of her catering career, Meadow Larson's kitchen roof caves in after an unrelenting blizzard. She has to accept help from the last person on earth she wants to see: Colin McGrath. The tormentor from her past is now a contractor, her new neighbor—and the only person available to take on a project of this size.
Colin is aware God has given him a second chance to make things right with Meadow after bullying her in high school. After years of regret and guilt, Colin is determined to earn her respect and forgiveness, no matter what it takes.
It'll take an extreme kitchen renovation, several cooking lessons, a little lace, and a lot of grace, but God is using this renovation project not only to restore Meadow's heart, but also to restore Colin's integrity in her eyes. Will Meadow learn to trust the new Colin even as their relationship grows from a business exchange to something more meaningful?
About the Author
Cheryl Wyatt writes romance with virtue. She's earned RT Top Picks, spots #1 and #4 on her debut publisher's Top 10 Most-Blogged-About-Books list, Romantic Times Reviewers Choice Award, Gayle Wilson Award of Excellence final, and other awards. Cheryl loves readers! Join her newsletter at www.CherylWyatt.com. Facebook: CherylWyattAuthor Twitter: @cherylwyatt
You can buy it here: