Beyond Championships Teen Edition
A Playbook for Winning at Life
By Dru Joyce II, with Chris Morrow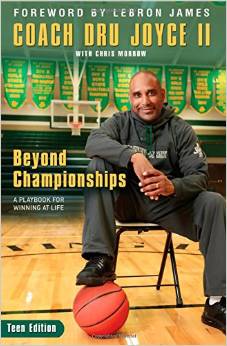 I gave this book to my 13 year old so he could read it and review it for me. These are his comments:
I learned about Coach Dru's coaching abilities and the seasons he coached Lebron James and his son Dru 3. He teaches morals about the game of basketball. Lebron James looks back on his seasons with his coach as an inspiration for his current life. This book shares Lebron's player stats which is cool. Also personal stories about Lebron's life growing up.
At the end of each chapter there are questions called "beyond the court" like journaling personal questions.
They also included colored pictures in the middle of the book which was really cool. And at the end of book they included state championship box scores from 2000-2003 and Lebron James high school stats.
I love basketball so this book was good to read. I really enjoyed it.
I received this book complimentary from BookLookBloggers in exchange for my honest review on my blog and social media. All opinions are my own.
Amazon Book Description:
In Beyond Championships Teen Edition, Coach Dru Joyce lays out the steps teens can follow to become winners on and off the court. Much more than a sports book, Beyond Championships Teen Edition is a blueprint for anyone looking to make better choices and reach their full potential. The book speaks to athletes aspiring to emulate LeBron's success, as well as anyone who feels either uninspired or unable to change the direction of their lives.
In less than ten years, Coach Dru went from someone resigned to a dull-yet-stable existence to one of the highest profile basketball coaches in the country, despite having virtually no background in the sport. It was an incredible transformation, the type most people only dream of, but one Coach Dru proved can become a reality with the right combination of faith and hard work.
Beyond Championships Teen Edition focuses on the nine principles Coach Dru promotes to his players and tries to live his own life. While these principles act as the foundation on which Coach Dru has built so many successful basketball teams, their universality ensures that they can be applied to any situation.
You can buy it from Amazon here: