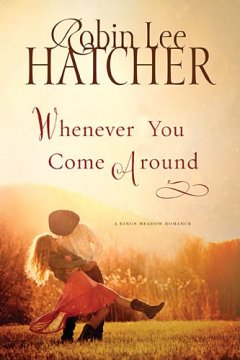 "Whenever You Come Around" is a Kings Meadow Christian Romance book. I read her other Kings Meadow romance book last year (Love Without End) and absolutely loved it.
This book can be read as a standalone but mentions characters from her previous book.
This story line is about Charity's visit back to her hometown in Kings Meadow. She is house sitting for her parents for the summer while she tries to get inspiration for her upcoming book. She rekindles a friendship with her parents next-door neighbor Buck, who she knew in high school.
This story was very well written with lots of emotion and character development. I can't wait to read more books by this author, especially set in the town of Kinds Meadow. I liked the underlining themes of forgiveness and God's love throughout this book.
I received this book complementary from booklookbloggers.com in exchange for an honest review on my blog and social media. All opinions are my own.
Book Description
Just when Charity's wild imagination failed her, a flesh-and-blood hero walked into her life.
Best-selling author Charity Anderson returns to her hometown of Kings Meadow to defeat a bad case of writer's block. She imagines she'll spend a lonely summer writing and then return to her home in Boise. She soon finds herself caring for Buck Malone, a wilderness guide-and the object of her unrequited teenage crush. But what else can she do? Her dog Cocoa caused the accident that left Buck with a broken ankle and wrist, taking him off the trail for weeks of prime tourist-season work.
Buck and Charity have gone different ways since high school, and at first it seems they have little in common. Buck loves the simple, low-key life he's made for himself in the mountains of Idaho, and she's a woman accustomed to the faster, bustling pace of the city. But spending so much time together has Buck hoping to change her mind about staying in the small town she thought she'd left behind for good.
It's a summer for discovering that young love is a spark not soon extinguished.
About the Author
Robin Lee Hatcher is the bestselling author of 70 books. Her numerous awards include the Christy Award for Excellence in Christian Fiction, the RITA Award for Best Inspirational Romance, and the RWA Lifetime Achievement Award. Robin and her husband currently reside in Idaho. For more information, visit www.robinleehatcher.com.
You can buy it here: