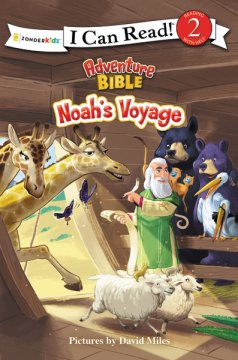 *32 pages long with pictures
*Used NIV bible references
*recommended for ages 4-8
*Level 2 for developing readers (reading with help)
My 5 year old loved reading this book with me! We have read it several times before bed and have also brought it to church as one of our "sunday quiet books" to read.
The words are big enough for smaller readers with pictures on every page which kept my sons interest. I am so glad that they make reader books from the scriptures! It makes it easier for children to learn bible truths and for them to understand at their level.
I was given a complimentary copy of this book from Book Look Bloggers in exchange for an honest review on my blog and social media-all opinions are my own.
Book Description
Noah's Voyage tells the story of a brave and faithful hero of the Old Testament. Written in the I Can Read level two standards, with age-appropriate vocabulary and concepts, young readers read about Noah, a simple man with great faith and trust in God. When God asks Noah to follow his directions, build an ark, and put two of every animal on it, Noah and his family do what they are asked, knowing God would not steer them wrong.
This I Can Read! series of Bible stories makes use of the unique features found in the NIV Adventure Bible such as "People in Bible Times" and "Did You Know ".
About the Author
Born and raised in Michigan, David spent his childhood sloshing through creek beds, climbing trees, and creating numerous baked goods. That spirit of adventure and curiosity often finds its way into his illustrations through quirky characters and hidden surprises. After spending a decade in Philadelphia and New York pursuing his artistic dreams, David has moved back to the familiar surroundings of Michigan. Now, when he's not drawing and painting he still enjoys a good romp through the woods.
You can buy it here: