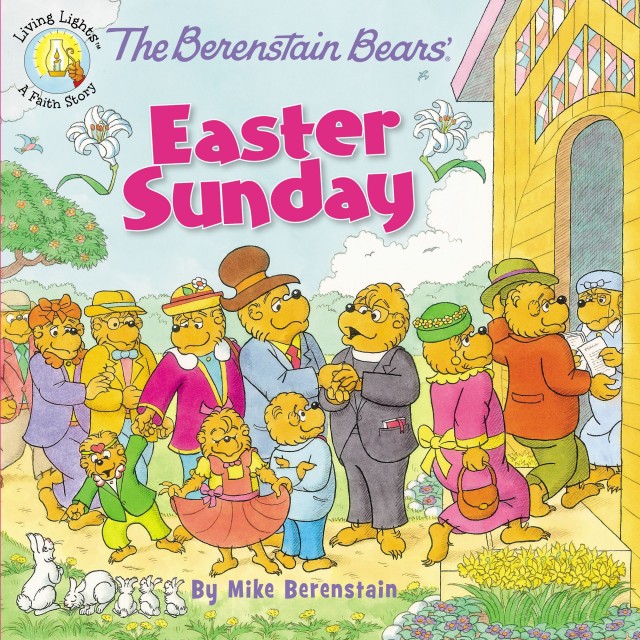 The Berenstain Bears' Easter Sunday (Berenstain Bears/Living Lights) by Mike Berenstain
This new Easter Berenstain Bears book was released last month. If you do an Amazon search for "Berenstain Bears Easter" you will find at least 6 different books written by them, however, this Easter book is different from the other ones.
This story covers one day in the life of the Bear family so older children may find that a little boring. My 5 year old loved reading about their Easter celebration and why we celebrate Easter. I liked that the book briefly addressed easter candy and bunnies, but brought it back to the religious aspect and the reason we celebrate.
I also love that they include discussion questions at the end of the book. I always do them with my son to help him remember what we just read together. If I forgot to ask him questions, he always remembers to remind me!
We have a very large collection of Berenstain Bear books and I'm always thrilled when a new one comes out. My sons insists on reading them several times a week and reading them at the library as well.
I received this book complimentary from booklookbloggers.com in exchange for an honest review on my blog and social media. All opinions are my own.
Book Description:
The Bear Family, all of their friends and family, and even the nature all around them get dressed in their Easter best for an Easter Sunday celebration at the Chapel in the Woods. Join Mama, Papa, Brother, sisters and Honey as they go to services, have an Easter treasure hunt, and learn what Easter is all about.
Recommended for ages 4 to 8 years.
You can purchase a copy here:

About the Author
Mike Berenstain grew up watching his parents, Stan and Jan, working together to write and draw these lovable bears. Eventually he started drawing and writing about them too.