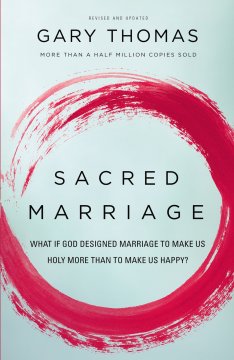 "Sacred Marriage" What If God Designed Marriage to Make Us Holy More Than to Make Us Happy? By Gary Thomas
This book cover immediately stood out to me because of the words "holy more than happy". That thought had never occurred to me before. The "worldly" selfish view is to make sure we are always happy and if our spouse or significant other doesn't make us happy anymore, its time to move on to something better. I wasn't raised like that, but I also don't like the concept of being miserable in a marriage either. Instead of focusing on my husbands faults, I should be focusing on how I can have a better relationship with God and with my family, thus having a better relationship with my husband as well, over time.
"Sacred Marriage doesn't tell you how to build a better marriage; it shows how your marriage can help you deepen your relationship with God."
"This book looks at how we can use the challenges, joys, struggles, and celebrations of marriage to draw closer to God and to grow in Christian character."
Sometimes that is hard to do but I'm looking forward to reading more of this book and implementing the suggestions and prayerfully seek a closer, more intimate, spiritual relationship with my husband.
Just reading the chapter contents gives the reader a good idea of what kind of spiritual, self help, marriage book this is. Chapter contents like: The Soul's embrace, Sacred Struggle, Holy Honor, and Sacred Mission; to name a few.
I have read other books by author Gary Thomas and I've always been very impressed with his knowledge and insight.
I received this book free from the publisher through the BookLook Bloggers book review bloggers program. I was not required to write a positive review. The opinions I have expressed are my own. I am disclosing this in accordance with the Federal Trade Commission's 16 CFR, Part 255.
Book Description
With over 500,000 units sold, Sacred Marriage has become a classic read for married couples over the past 15 years. Now updated, streamlined, and revised by author and speaker Gary Thomas to better meet the needs of today's pre-married and married couples.
Happy is good. Holy is better.
Marriage is more than a sacred covenant with another person. It is a spiritual discipline designed to help men and women know God better, trust him more fully, and love him more deeply. So what if God's primary intent for marriage isn't to make people happy . . . but to make them holy?
Sacred Marriage reveals how marriage trains husbands and wives to love God and others well, how it exposes sin and makes us more aware of God's presence, how good marriages foster good prayer, how married sex feeds the spiritual life, and more. More than just a manual to a happier relationship, Sacred Marriage challenges readers to look at marriage in a whole new way and uncover the mystery of God's overarching purpose.
The revised edition of Sacred Marriage takes into account the ways men's and women's roles have expanded since the book was first written. It has been streamlined to be a faster read without losing the depth that so many readers have valued.
Paperback: 272 pages
Publisher: Zondervan; Reprint edition (August 4, 2015)

About the Author
Gary Thomas is a bestselling author and international speaker whose ministry brings people closer to Christ and closer to others. He unites the study of Scripture, church history, and the Christian classics to foster spiritual growth and deeper relationships. Gary's unique message will help you:
* Embrace the unique way that you interact with God.
* Partner in the spiritual growth and character formation of your spouse.
* Build a closer, grace-based family.
* Enjoy God with a new sense of freedom and delight.
Find out more at: www.GaryThomas.com