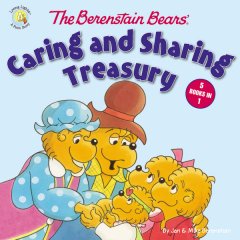 The Berenstain Bears' Caring and Sharing Treasury (5 books in 1) by Jan and Mike Berenstain
This collection is called the "Caring and Sharing Treasury" collection of 5 stories. It's a great price for $10.99 (or lower right now on Amazon) when each story typically retails for $3.99 each. This collection is part of the "Living Lights" Berenstain Bear books which help children learn how God wants them to live every day. Suggested age for this collection is ages 4-8.
My 6 year old has been reading Berenstain Bear books for at least a year or two and loves them! He really liked this collection of 5 books.
"Jobs around Town"-Brother and Sister Bear go all around town learning about the different jobs people do around town. Like Firebear Bob, Beartown Bus drivers… I liked the last page that said these are many things to do and be and it can be hard to choose, so there's no need to worry.
"Get Involved"-Brother and Sister Bear as part of the Cub Club go around all of Bear Country helping those in need especially after a bid rain storm.
"Love Their Neighbors"-Mother Bear and Papa Bear talk about their neighbors and how good they are, except for the disgraceful Boog brothers. But when their car breaks down, someone unexpected comes to help them. Similar to the good Samaritan bible story.
"Gossip Gang"-"-The family gets involved in gossip and then learns its not very nice when people turn around and gossip about you! Especially sister bear.
"The Biggest Brag"-Brother and Sister Bear start to brag too much about their talents and to each other, so Gramps teaches them about pride and what the bible stays.
He liked Gossip Gang and Get Involved the best.
I received a complimentary copy of this book from BookLookBloggers in exchange for an honest review on my blog and social media-all opinions are my own.
Book Description
Time after time the Living Lights, Berenstain Bears series has attracted young readers through creative and engaging stories that not only entertain but teach values and life lessons. Now, five of the series' most loved books are available in a comprehensive bind-up. This Living Lights collection Back to School is sure to be a popular choice for Berenstain Bears readers who have enjoyed the series in the past.
This collection includes:
Jobs Around Town
Get Involved
Love Their Neighbors
Gossip Gang
The Biggest Brag
About the Author
Stan and Jan Berenstain introduced the first Berenstain Bear books in 1962. Mike Berenstain grew up watching his parents work together to write about and draw these lovable bears. Eventually he started drawing and writing about them too. Though Stan died in 2005, and Jan in 2012, Mike continues to create the delightful Bear adventures from the family home and studio in Pennsylvania, in an area that looks much like the sunny dirt road deep in Bear Country.