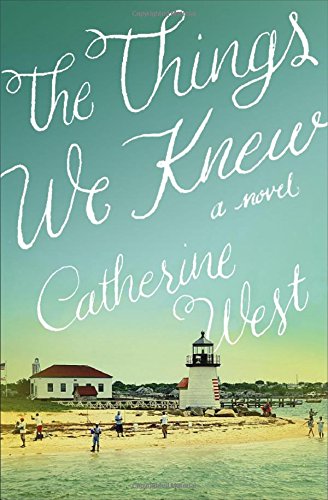 This story mostly follows Lynette as she tries to keep the family home in tact and care for her dad who is becoming absent minded and confused. Unfortunately with no other options left, Lynette has to contact her four siblings in order to make important decisions about the house and their father's health. All five children have experienced various degrees of personal struggles and tragedies after the death of their mother 12 years prior. The entire family has various degrees of dysfunction and personal demons to fight so they all moved away from the family home and town where they grew up except for the dad and the youngest child Lynette.
It was interesting to read how all five siblings had different memories and opinions of their parents and growing up in the family house. Lynette, the youngest one at the time, had the happiest memories but began to have dreams and flashbacks which started to reveal what actually happened the day their mother died.
Although this book wasn't especially happy and uplifting, it was relatable and I was emotionally drawn to the characters and wondered how the story was going to end. The story was mostly about hope, forgiveness and second chances.
I received a complimentary copy of this book from LitFuse Publicity in exchange for an honest review on my blog and social media-all opinions are my own.
About the book:
A tragedy from the past resurfaces in this tale of family secrets and reignited love.
After her mother's death twelve years ago, Lynette Carlisle watched her close-knit family unravel. One by one, her four older siblings left their Nantucket home and never returned. All seem to harbor animosity toward their father, silently blaming him for their mother's death. Nobody will talk about that dreadful day, and Lynette can't remember a bit of it.
But when next-door neighbor Nicholas Cooper returns to Nantucket, he brings the past with him. Once her brother's best friend and Lynette's first crush, Nick seems to hiding things from her. Lynette wonders what he knows about the day her mother died and hopes he might help her remember the things she can't.
But Nick has no intention of telling Lynette the truth. Besides the damage it might cause his own family, he doesn't want to risk harming the fragile friendship between him and the woman he once thought of as a kid sister.
As their father's failing health and financial concerns bring the Carlisle siblings home, secrets begin to surface—secrets that will either restore their shattered relationships or separate the siblings forever. But pulling up anchor on the past propels them into the perfect storm, powerful enough to make them question all they ever believed in.
Purchase a copy:

About the author:
Catherine West writes stories of hope and healing from her island home in Bermuda. When she's not at the computer working on her next story, you can find her taking her Border collie for long walks on the beach or tending to her roses and orchids. She and her husband have two grown children.