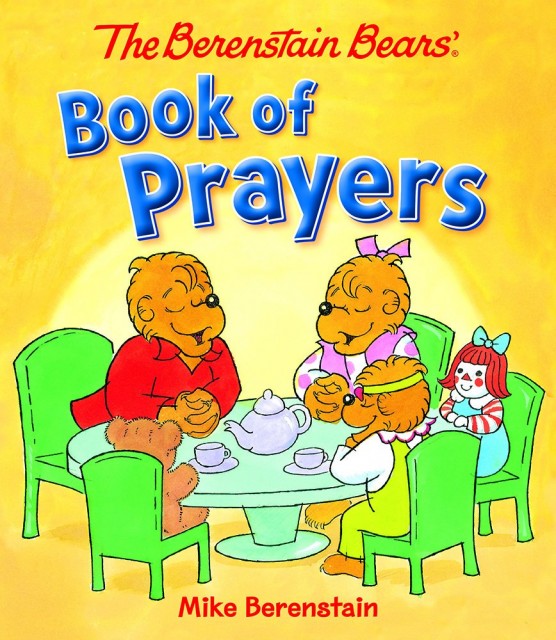 The recommended age for this 32 page board book is ages 2-5, but my 6 year old still enjoyed this book! It has a nice padded cover with thicker board book pages. Every 2-4 pages has a rhyming prayer for any occasion:
Rise and Shine
Joyful Praise
Thanks
Mealtimes
Help and Guidance
Comfort
Others
Forgiveness
Bedtime
The pictures are the traditional nice and bright Berenstain Bear pictures coordinated with each pages theme. Very cute book! We enjoyed reading it together.
I received a complimentary copy of this book in exchange for an honest review on social media-all opinions are my own.
About the Book
A collection of prayers from the iconic Berenstain Bears brand for children ages two to five
This new prayer book for toddlers features Mama and Papa Bear, Brother, Sister, and Honey. Nearly 50 simple rhyming prayers cover a typical day and the typical worries of a young child. From waking in the morning to going to sleep at night, from thanking God for a meal to praying for His comfort when afraid, the prayers will help little ones see that any moment is a good moment to talk to God.
With its soft padded cover and convenient size, the book is the perfect way to teach children about prayer and the ways God cares for us each day.

Purchase a copy here:

About the Author
Mike Berenstain grew up watching his parents work together to write about and draw these lovable bears. Eventually he started writing about and drawing them too. Although Stan died in 2005 and Jan in 2012, Mike carries on his parents' love of creating Berenstain Bear stories from an area that looks a lot like Bear Country, in southeastern Pennsylvania.