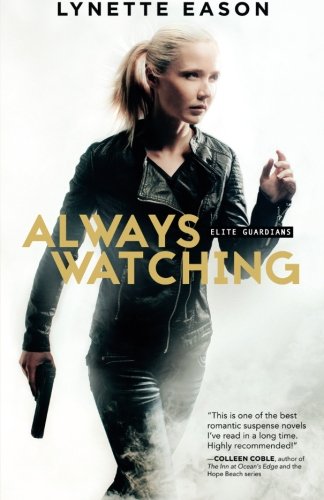 Always Watching (Elite Guardians #1) by Lynette Eason
Another winner for Lynette Eason! "Always Watching" is book 1 of her brand new series called "Elite Guardians".
The Elite Guardians make up a group of highly skilled women who are privately hired to protect others. In this book , Elite Guardian Bodyguard Olivia is hired to protect radio personality Wade Savage from an unknown stalker. As the story progresses the stalker becomes bolder and becomes a threat to those around Wade and who he cares about.
Olivia and her group of coworkers work together to try to find who the stalker is before another person gets killed.
This clean novel was very well written, fast paced and kept me on the edge of my seat. I can't wait for book two!
I received a copy of this book complimentary for blog and social media review. All opinions are my own.
About the book:
The bodyguards of Elite Guardians Agency have more than just skill and prowess in common–they're also all women. When it becomes clear that popular psychiatrist and radio personality Wade Savage has a stalker, his father secretly hires Elite Guardians in order to protect his son.
But when Wade's bodyguard is attacked and nearly killed, agency owner Olivia Edwards must step in and fill the gap. Olivia's skills are about to be tested to the limit as Wade's stalker moves from leaving innocent gifts at his door to threatening those closest to him. Olivia has the feeling that she's next on the list. And to complicate things even further, she realizes that her heart may be in as much danger as her client.
Bestselling author and fan favorite Lynette Eason drops readers right into the action in this fast-paced new series with a unique twist. Readers will love these strong female characters who put it all on the line to save lives.
Purchase your copy here:

Biography
Award-winning, best-selling author, Lynette Eason has written/contracted thirty-six books since 2007. She writes for Harlequin's Love Inspired Suspense line and for Revell, a division of Baker Publishing Group. Her books have hit the CBA and ECPA bestseller lists. Lynette has been teaching for more than ten years and is very happy to make the transition from teaching school to teaching writing whenever the opportunity presents. She is married, has two children, and lives in Greenville, SC.