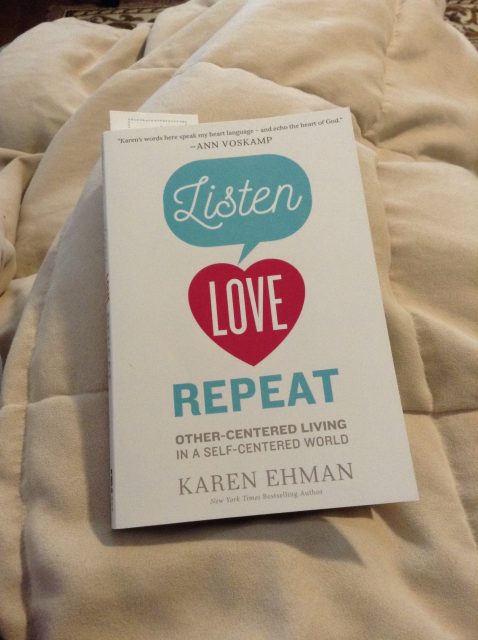 Listen, Love, Repeat: Other-Centered Living in a Self-Centered World by Karen Ehman
This book was filled with all kinds of fun and practical ways on how we can serve others, how to find the time to serve others, and how to bless others like the lonely or hard to love.
There were times when I was reading this book that I felt like some of the suggestions were unrealistic or over-the-top, but then I was reminded that the whole point of the book is for us to be more centered on other people and less centered on ourselves. We are so busy with our own lives that we don't take the time to notice or help other people. I was reminded of the importance of this as I was reading this book.
I really liked the chapter on how to be a gracious host so that others will feel welcome and loved in your home. It gave me alot of good ideas that I hadn't thought about before. The author uses her own examples-not to brag, but to show the reader examples of ways to serve or events that she missed serving others and that she now regrets.
I also liked chapter 3-it's about time, giving of yourself, and listening for heart drops. Heart drops are little things that people share randomly during conversations, like a perfume that they like because it reminds them of an experience or memory of a loved one. The author encourages us to pay attention to peoples little heart drops around us so that it can give us ideas on how to serve them in the future.
The author mentions in chapter 1 that we need to live alert and read between the lines and try to listen to other people's hearts so that we know how to help them when they're going through trouble times or discouragement or when they are overwhelmed. In this chapter, the author talks about how we can live alert and why we need to treat people this way- listening, loving, and repeating that kind of behavior day after day. Hence the name of the book-Listen, Love, Repeat!
I agreed with her two reasons as to why we are here on earth. First, to have a relationship with God. Second, to point others to Jesus so that they can return to Heaven as well.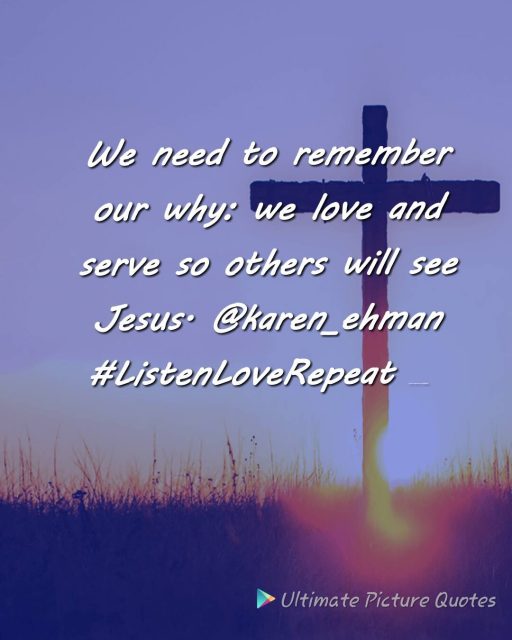 If we choose not to love and serve other people, then we are not being a good Christian example to them. Serving others and loving others is what God would want us to do. When we are too busy or selfish to help others, then we are losing out on blessings and the opportunity to serve and to be a witness to others.
I received a copy of this book complimentary for blog and social media review. All opinions are my own.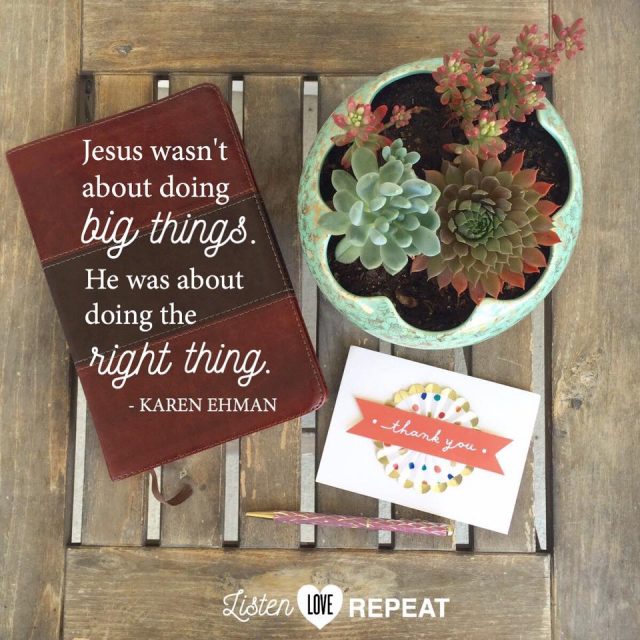 About the book:
Our culture is self-obsessed – in our schedules, relationships, and especially online. (Can you say selfie?) But in this near-narcissism, people are less content than in decades past. Why? Because we forgot the joy that comes from putting others first. Doing so requires us to live alert, listening for "heart drops," hints from those in our lives who need a helping hand or a generous dose of encouragement. Living alert lifts our own spirits, showing us that blessing others blesses us even more.
Listen, Love, Repeat offers biblical teaching and suggests doable actions that are simple, heart-tugging, sentimental, even sneaky and hilarious. This message:
• Presents scriptural examples of those who lived alert, including Jesus, who noticed those who least expected to be seen.
• Explains the role of good works for followers of Christ. They aren't our ticket to heaven but they are our marching orders on earth.
• Gives creative ideas for showing love to friends and family, and suggests practical ways to reach out to the lonely, the marginalized, the outcast, and the odd duck. Additionally, it helps you comfort the grieving, showing what you can do when you don't know what to say.
• Provides inspiration for blessing the "necessary people" in your life, those often-overlooked souls who help you get life done every day, and teaches you how to hug a porcupine by genuinely loving the hard-to-love.
As we scatter love, we create a safe space where we can openly share the gospel. We get to see lives changed right before our eyes. Most importantly, Listen, Love, Repeat will enable you to live a life that is full of kind deeds, not to selfishly shout, "Hey! Look at me!" but to humbly implore, "Will you look at Him?"
Purchase your copy here:

About the Author
Karen Ehman is a Proverbs 31 Ministries speaker, a New York Times best-selling author, and a writer for Encouragement For Today, an online devotional that reaches over one million women daily. She has written seven nine books including KEEP IT SHUT: What to Say, How to Say It & When to Say Nothing at All and LET. IT. GO: How to Stop Running the Show & Start Walking in Faith. Married to her college sweetheart, Todd, and the mother of three, she enjoys antique hunting, cheering for the Detroit Tigers, and feeding the many teens who gather around her kitchen island for a taste of Mama Karen's cooking. Connect with her at www.karenehman.com.