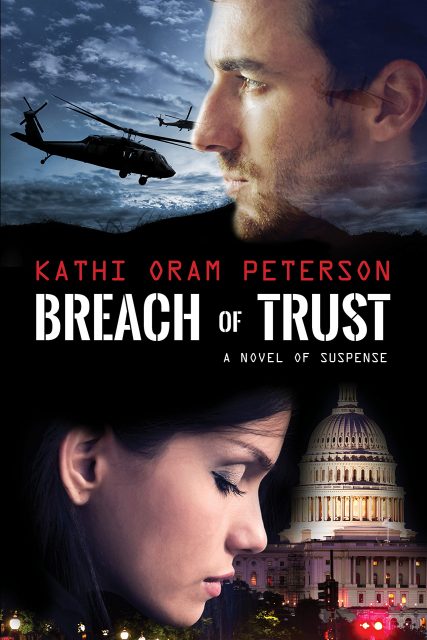 After I read the book description I was worried it was a total spoiler for the entire book. But everything mentioned in the back book description happens in the first chapter or two.
Four years after a tragic helicopter crash, Lieutenant Cooper is found alive and returns home only to find her husband has remarried and her daughter is growing up without her. She finds herself on the run and can only trust her navy seal friend Axe to keep them alive.
This book was fast pace, suspenseful, and lots of drama!! I haven't read anything by this author before and would definitely like to read more books by her now.
I highly recommend it if you like suspenseful fiction. I received a copy of this book complimentary for blog and social media review. All opinions are my own.
Breach of Trust by Kathi Oram Peterson
Lieutenant Commander Cooper Lane has so much
to live for. With a loving husband and beautiful
baby girl waiting for her back home, she is anxious
to finish her mission in Afghanistan and return to
her family. But in a split second, her world shatters.
Her helicopter is going down in that hostile country,
and there will be no survivors.
Four years later . . .
On a covert mission in an Afghan village, Navy
SEAL Axe Talbot finds something no one ever
expected: Lieutenant Cooper Lane—alive. Cooper
survived the crash that killed her team and has been
hiding behind enemy lines for four years. It's the
woman he's been looking for and dreaming about
for so long.
After her rescue, Cooper is not sure she can survive
the reality waiting for her back home—when she
disappeared and was pronounced dead, her husband
married her best friend. Cooper is lost, but her
troubles are just beginning. In one horror-filled
moment, her former husband is murdered before
her eyes, and Cooper becomes the prime suspect.
Now she must embark on one last mission to clear
her name. And there are only two people she trusts
to help her: her father and Axe, the SEAL who
rescued her. Cooper and Axe take off, and together
the makeshift team uncovers a trail of mysterious
deaths that leads to unimaginable danger.
You can purchase a copy here: