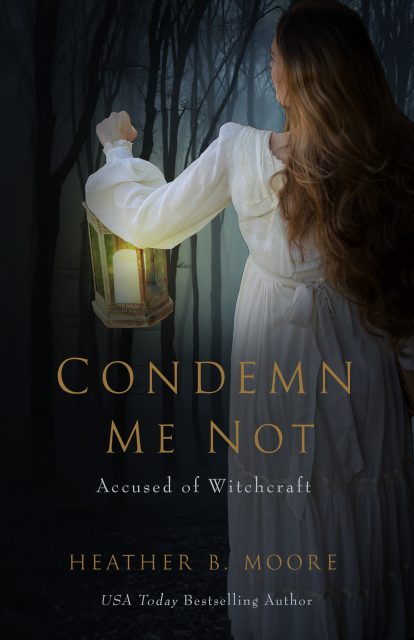 I knew going into this book that it was not going to have a good ending, however I chose to read it because I love all of the author's books and I knew that she had been working on this story for quite some time.
"Condemn Me Not" is an historical novel is based on the life of the author's tenth great grandmother Susannah North Martin who was accused of witchcraft and hung in Salem Massachusetts in 1692.
The chapters alternate between Susannah's time in the Salem jail in 1692 when she was in her 70s and her life in Salisberry Massachusetts in 1646. Readers start with reading about Susannahs life in her mid-20s before she meets her husband George. It was so funny to read about George's forwardness towards Susannah and her ignoring his advances. The jail chapters were hard to read because of the impending trial and hanging, but I was able to catch a glimpse into how hard jail life was and how traumatic this was for everyone involved. Susannah was able to take comfort in jail from frequent visits of her late husband and by keeping her faith in God.
The story was very well written and the characters and plot completely drew me in. I could not put this book down until I finished it. It was very emotional and I was crying at the end of the book. Very well written for such a very hard time in history. I applaud the author Heather Moore for taking the time to write her grandmother's story!
I received a copy of this book complimentary for blog and social media review. All opinions are my own.
About the Book
In CONDEMN ME NOT: ACCUSED OF WITCHCRAFT, USA Today Bestselling author Heather B. Moore brings the life of her 10th great-grandmother to center stage. Susannah North Martin, accused of witchcraft in 1692, joins five women in the Salem Jail, all sentenced to death for their crimes. Amidst tragedy, Susannah finds hope and compassion as she remembers a well-loved life, and readers discover that love reaches far beyond the grave as Susannah faces the magistrates in Salem.
Purchase your copy here:

About the Author
Heather B. Moore is a USA Today bestselling author of more than a dozen historical novels and thrillers, written under pen name H.B. Moore. She writes women's fiction, romance and inspirational non-fiction under Heather B. Moore. This can all be confusing, so her kids just call her Mom. Heather attended Cairo American College in Egypt, the Anglican School of Jerusalem in Israel, and earned a Bachelor of Science degree from Brigham Young University in Utah.