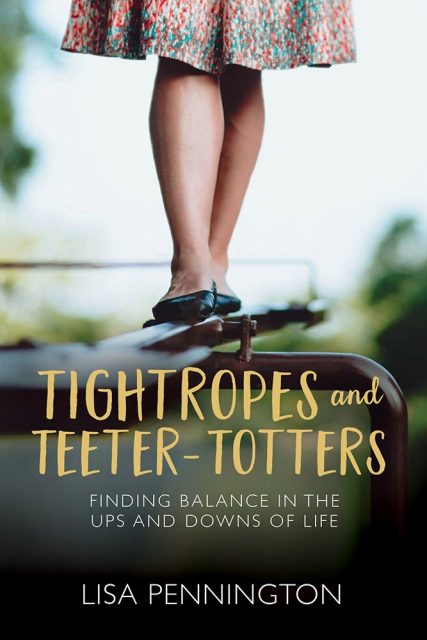 Tightropes and Teeter-Totters: Finding Balance in the Ups and Downs of Life
The author starts off by describing the old teeter totters on the playgrounds (I loved them!) and how falling is a part of life and that life is about balance. "Falling, getting up, trying again, over and over, is how we learn."
Balance is NOT about perfection, control, comfort, or the exact formula (because one specific thing doesn't work for everyone). Balance is our intentional reaction to something and looking at areas in our lives that aren't working and making specific actions to change them.
The author goes on to give suggestions and examples on how to balance motherhood, marriage, friends, money, moods, etc. She uses the word BALANCE as an acronym to help her remember the steps when trying to balance and cope with a particular situation.
Begin
Assess
Learn
Account
Notify
Change
Endure
She then goes thru each chapter using this method to "find balance" to each situation mentioned in the book, along with posting mini homework assignments at the end of teach chapter. I liked that the author used personal experiences and humor to share insights and practical suggestions through out the entire book.
I received a copy of this book complimentary for blog and social media review. All opinions are my own
About the Book
Lisa Pennington knows how to get up after losing her balance, even with a full house, a not-so-full bank account, and never enough energy. In her latest book, she offers readers:
Strategies for finding balance in marriage, motherhood, and bad moods
Playful yet biblically based tips for turning hard days around
Inspiration for shaping obstacles into opportunities
Ways to respond to irritations with gratitude
Enthusiastic encouragement for living out God's purpose.
For every woman who wonders if her satisfaction in life will ever match her dreams, Pennington has real-life answers full of hope and humor.
About the Author
Lisa Pennington is a homeschooling mom of nine who shares her life—one laundry load at a time—on her blog, The Pennington Point. She is a sought-after speaker at conferences and women's groups and is the author of Mama Needs a Do-Over. Lisa and her family live near San Antonio.