>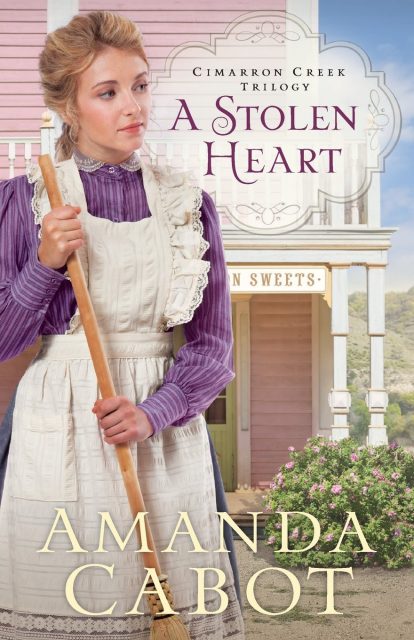 A Stolen Heart (Cimarron Creek Trilogy) by Amanda Cabot
This is the start of a new series called "Cimarron Creek Trilogy". The second book will be available in early 2018.
Although Lydia is a northerner, she packs her bags and bravely moves to Texas to a little town called Cimarron Creek to meet up with her fiancé. Upon arriving she finds out he has disappeared without a trace and has left a pregnant wife behind! Disgraced, Lydia doesn't know what todo, but thru the help of some townspeople and the Sheriff she begins to make the small town her permanent home. Lydia still can't shake her belief that something bad has happened to her past fiancé and refuses to think the worst of him. When bad things start happening in town, Lydia and Sherriff Travis work together before someone else gets hurt or killed.
I loved all the characters in this book-Aunt Bertha, Travis, Opal… I can't wait to read more about this town in this new series! I really enjoyed this Christian historical romance book. It was filled with hope, forgiveness and love; but also had some drama and suspense.
I received a copy of this book complimentary for blog and social media review. All opinions are my own.
About the Book
From afar, Cimarron Creek seems like an idyllic town tucked in the Texas Hill Country. But when former schoolteacher Lydia Crawford steps onto its dusty streets in 1880, she finds a town with a deep-seated resentment of Northerners–like her. Lydia won't let that get her down, though. All will be well when she's reunited with her fiancé. But when she discovers he has disappeared–and that he left behind a pregnant wife–Lydia is at a loss about what to do next. The handsome sheriff urges her to trust him, but can she trust anyone in this town where secrets are as prevalent as bluebonnets in spring?
Bestselling author Amanda Cabot invites readers back into Texas's storied past to experience love and adventure against a backdrop of tension and mystery in this first book in a brand-new series.
Purchase a copy here

About the Author
Amanda Cabot is the bestselling author of At Bluebonnet Lake, In Firefly Valley, and On Lone Star Trail, as well as the Texas Dreams series, the Westward Winds series, and Christmas Roses. Her books have been finalists for the ACFW Carol Awards and the Booksellers' Best. She lives in Wyoming. Learn more at www.amandacabot.com.