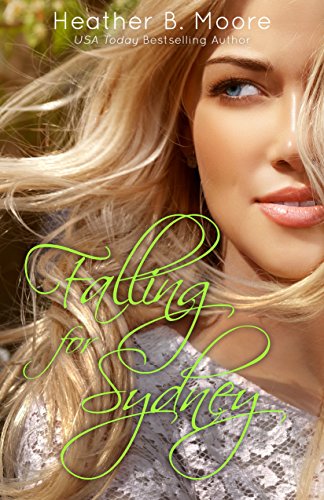 Falling for Sydney by Heather B. Moore
This story was a quick read since its only 78 pages, 11 chapters long. "Falling for Sydney" is book 1 (of 3) in the new "Falling" series by author Heather Moore. Sydney, Maria and June meet their senior year and work on the same American History class project together. They become very good friends and attend Washington University together. All three books in this series are all tied together involving the same girls but focusing on one girl at a time.
Sydney is a beautiful girl, popular, has a great job and is ready to get married. However when she sees a strange truck parked at her finance's house all night, she wonders why the uneasy feeling in her stomach won't go away. She then meets Jake who supposedly is Rian's brother and shares with her all these stories about her Fiancee's past. Sydney has to decide what facts are true and whether she wants to continue with her future plans with him.
This was a clean, quick, fun romance story. I think there is one swear word. I can't wait to read the other 2 books in this series.
I received a copy of this ebook complimentary for blog and social media review. All opinions are my own.
ABOUT THE BOOK:
Sydney has been the perfect friend, the perfect daughter, and Rian checks off on her perfect fiancé list. But when Sydney notices a strange truck parked in her fiancé's parking spot, she's in for the surprise of her life. Not only is Rian not who she thought he was, but his brother Jake is about to turn her life upside down.
Other books in the FALLING SERIES:
Falling for Sydney
Falling for Maria (coming February 2017)
Falling for June (coming Summer 2017)
Biography
Heather B. Moore is a USA Today bestselling author of more than a dozen historical novels and thrillers, written under pen name H.B. Moore. She writes women's fiction, romance and inspirational non-fiction under Heather B. Moore. This can all be confusing, so her kids just call her Mom. Heather attended Cairo American College in Egypt, the Anglican School of Jerusalem in Israel, and earned a Bachelor of Science degree from Brigham Young University in Utah.