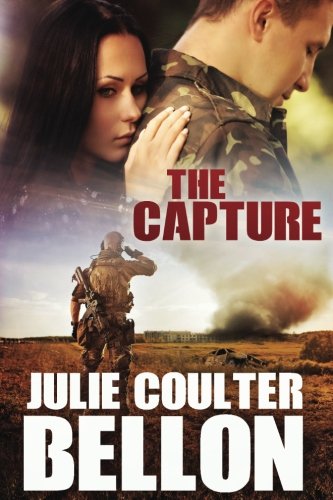 The Capture (Griffin Force #3) by Julie Coulter Bellon
I have read all three books in the Griffin Force series and they are all outstanding! "The Capture" is book 3 is just as good, if not better.
The story line was fast paced from the first page to the last. I was gasping and on the edge of my seat for most of the book, especially the first several chapters. (my husband kept asking me if I was okay) It was hard to read Zaya's experiences while in prison, but it made the characters and story line more realistic especially in their line of work. I really like the Griffin Force team characters and how they interact and take care of eachother like family.
I highly recommend this series if you enjoy lots of action and adventure. I absolutely loved it and my almost 16 year old loves this series too. This is a series of books that I will read again and again.
I received a copy of this Ebook complimentary for blog and social media review. All opinions are my own.
About the Book
Julian Bennet, head of Griffin Force, finally finds love with Zaya Altes, but the day he buys her an engagement ring, international terrorist Nazer al-Raimi abducts her. Getting her back consumes him, yet it takes nearly six months to find her. The daring mission to extract her from a hidden prison in Afghanistan is successful, but Zaya has suffered during captivity. Though she's grateful to Julian for breaking her out, she wants nothing to do with him. Before he can show her how much he still loves her, Nazer finds them and vows revenge. Can Julian keep Zaya safe and still stop Nazer once and for all?
Zaya Altes nearly gave up hope of ever being rescued, but when Griffin Force finally finds her, returning to life is harder than she imagined. While her feelings for Julian are as strong as ever, she feels too broken to recapture what they once had. Instead, Zaya jumps at a chance to trap Nazer, wanting vengeance for what she's endured. As the final showdown draws near, however, Zaya will have to make an unimaginable choice to let Nazer close to her again. But when a shocking web of betrayal is uncovered in their own ranks, their one chance to capture him is compromised. Julian and Zaya will put everything on the line, but can they survive this ultimate test and finally reach for their chance at happiness?
Purchase your copy here:

Bio:
Julie Coulter Bellon is the author of more than a dozen romantic suspense novels. Her book All Fall Down won the RONE award for Best Suspense and Pocket Full of Posies won a RONE Honorable Mention for Best Suspense.
Julie loves to travel and her favorite cities she's visited so far are probably Athens, Paris, Ottawa, and London. She loves to read, write, teach, watch Castle, Hawaii Five-O, and eat Canadian chocolate. Not necessarily in that order.
Julie offers writing and publishing tips as well as her take on life on her blog ldswritermom.blogspot.com You can also find out about all her upcoming projects at her website juliebellon.com