>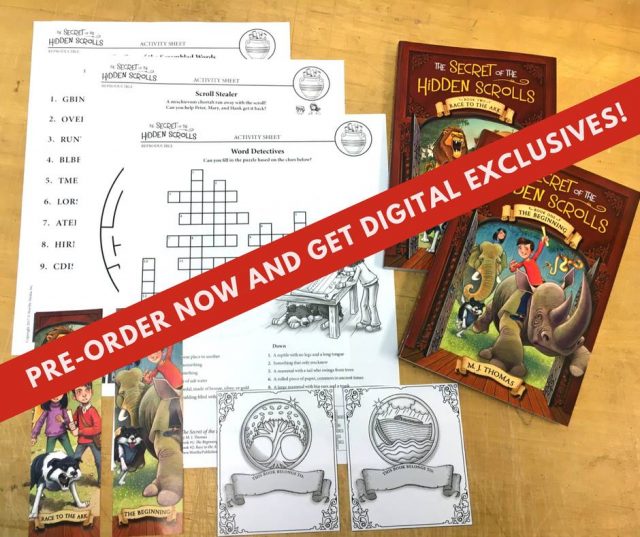 Introducing a new Christian chapter book series called, "The Secret of the Hidden Scrolls"!
Book 1 won't be available until August 8th, but when you pre-order Book #1 or Book #2 in The Secret of the Hidden Scrolls, you will receive exclusive digital content. But Hurry! This offer expires once the books release on August 8, 2017. Learn more about the exclusives and how to pre-order here: bit.ly/HiddenScrolls
Purchase book 1 here:
In the first adventure in the series, Peter and Mary find themselves witnesses to the creation of the world just as God is speaking it into existence. Can they unlock the mystery of the scrolls before they get trapped in history forever? Children will discover the answer as the two characters ride rhinos, meet the angel Michael, and talk to a certain snake in the Garden of Eden. Riveting text and engaging illustrations bring this beloved Bible story to riotous life. Ages 6-9.

Purchase book 2 here:
In Race to the Ark, Peter, Mary, and their faithful dog Hank travel back to the time of Noah. With only seven days to solve the riddle of the scroll and escape the impending flood, Peter, Mary, and Hank must race to help Noah and his family finish the ark. Along their journey, Peter and Mary evade a group of young ruffians and ultimately come face to face with the Dark Ruler, an evil man who reminds them of a snake they met in the Garden of Eden. Enthralling action and compelling illustrations will have children glued to the pages of this rambunctious Bible-based story. Ages 6-9.