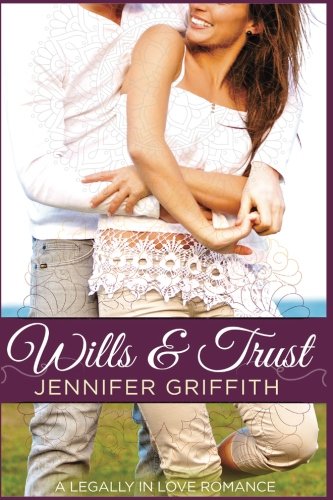 Wills & Trust (Legally in Love Collection #3) by Jennifer Griffith
I received an advance copy of this book but unfortunately it had alot of errors making it very hard to read. I enjoyed the story, however, based on the title of the book and chapter headings I thought it would be more of a romance story between an attorney and his childhood friend. The story mostly revolved around baseball and historic facts which I personally didn't find very interesting.
It was a clean, quick, romantic story but not something I would read again.
I received a copy of this e-book complimentary for blog and social media review. All opinions are my own.
About the book:
Town beauty queen Brooke Chadwick knows Dane Rockwell will never take a second look at his best friend's younger sister, no matter how much she's longed for him. She's a kid nuisance. A pity case he played catch with after her parents died in an accident. Dane Rockwell is a Rockwell—of the felons, frauds, and cheats Rockwells in town. How can he possibly ask Brooke Chadwick—of the upstanding, reputable Chadwicks in town—to consider him worthy? Now Dane is back in town with three things: a ring in his pocket, a kiss burning on his mouth for her, and a law degree to prove his worthiness. Brooke is about to say yes to a proposal, but not Dane's. Disappointment looms. But when Brooke gets notice to attend a reading of a stranger's will with her legal counsel, Dane is her only option for a lawyer, and it might be Dane's only chance to earn her trust. With themes of love, loss, second chances, an inheritance from a stranger, beautiful beach scenes on the Chesapeake Bay, baseball games, Babe Ruth, antique collectibles, a gripping court case, betrayals, and lots of romantic kisses and chemistry, this book's plot twists and turns through Dane and Brooke's lives–as Brooke learns to trust, and Dane learns about self-will. Wills & Trust is a new standalone romance in the bestselling Legally in Love Collection by Jennifer Griffith.

Purchase your copy here: