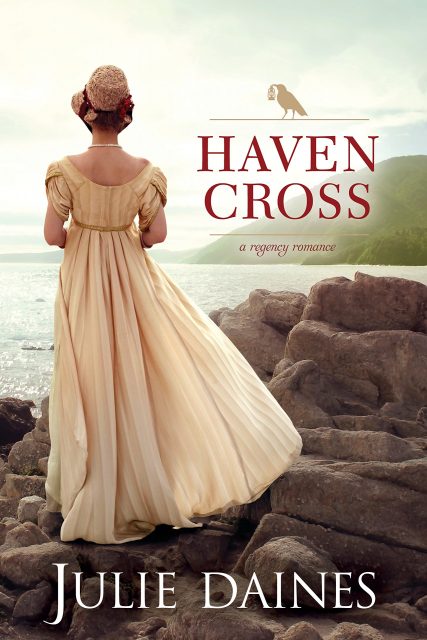 "Havencross" by Julie Daines
Typically I don't read regency romances because the time period doesn't keep my interest, however I really enjoyed this story!
"Havencross" takes place in London and the chapters alternate between the point of view and the telling of the story by Elaine and Gareth. Elaine and her family move back to their old home after being shunned for a public scandal involving her father. Elaine doesn't want to see her old friend Gareth because of how their relationship had previously ended. Her old home reminds her of her deceased brother and brings up old memories which everyone wants to forget.
This was a clean, romantic story with lots of drama which included kidnapping, smuggling and murder. It kept my interest from beginning to end, and whether or not you like reading regency time period books, I would highly recommend this book!
I received a copy of this book complimentary for blog and social media review. All opinions are my own.
About the Book
When a shocking scandal involving her father spreads through London society, Elaine Cardinham and her parents are forced to retreat to their country home in Cornwall for refuge. But Havencross is no sanctuary for Elaine. She is haunted by the mysterious disappearance of her brother and the heartbreak she left in her wake all those years ago.
It has been five long years since Gareth Kemp last saw Elaine when she rejected his marriage proposal. Her reappearance convinces him of one thing: he has never stopped loving her. To put his feelings for her aside, he focuses his attention on the dangerous smuggling plaguing the Cornish coast. As Elaine attempts to run from her past, she ventures ever closer to a dangerous truth and Gareth may be the only one who can save her from a deadly finish.
Purchase your copy here:

Biography
Julie Daines is an award-winning and best-selling author. She was born in Concord, Massachusetts, and was raised in Utah. She spent eighteen months living in London, where she studied and fell in love with English literature, sticky toffee pudding, and the mysterious guy who ran the kebab store around the corner.
She loves reading, writing, and watching movies—anything that transports her to another world. She picks Captain Wentworth over Mr. Darcy, firmly believes in second breakfast, and never leaves home without her vervain.