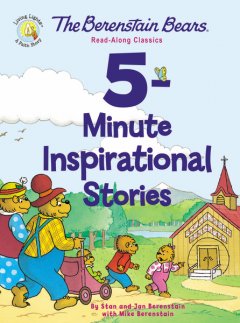 The Berenstain Bears 5-Minute Inspirational Stories
Read-Along Classics
By Stan & Jan Berenstain with Mike Berenstain
My 7 year old LOVES Berenstain Bears books and we have ALOT! We were thrilled to get this book because it's perfect to keep on our nightstand to read before bed. I like that it's hardcover and larger so its easy to hold and not get bent.
The stories included are from the "Living Lights" series which are more christian stories instead of secular. The stories explain different aspects of living life according to God's way and the scriptures.
My son loved all the stories in this collection and we have read this book numerous times since it was released in May! Well worth the money since you receive 12 stories in this collection!
I received a copy of this book complimentary for blog and social media review. All opinions are my own.
Age Range: 4 – 8 years
Grade Level: Preschool – 3
Series: Berenstain Bears/Living Lights
Hardcover: 192 pages
About the Book:
The Berenstain Bears 5-Minute Read-Along Stories is the perfect companion for young readers at bedtime or anytime. With classic stories from the Berenstain Bears Living Lights series, join the Bear family and all their friends in Bear Country as they learn how to be good friends, how to play fairly, where to find courage, and much more. This oversize padded storybook is sure to become a lap time favorite for Berenstain fans, both young and old, as they read these stories in 5 minutes.
Stories included are:
The Berenstain Bears and the Forgiving Tree,
The Berenstain Bears God Loves You,
The Berenstain Bears Say Their Prayers,
The Berenstain Bears Love Their Neighbors,
The Berenstain Bears' Faithful Friends,
The Berenstain Bears' Biggest Brag,
The Berenstain Bears and the Gift of Courage,
The Berenstain Bears Blessed are the Peacemakers,
The Berenstain Bears Get Involved,
The Berenstain Bears' Gossip Gang,
The Berenstain Bears God Bless Our Home, and
The Berenstain Bears Here's the Church, Here's the Steeple.
Purchase your copy here:

About the Author:
Stan and Jan Berenstain introduced the first Berenstain Bear books in 1962. Mike Berenstain grew up watching his parents work together to write about and draw these lovable bears. Eventually he started drawing and writing about them too. Though Stan died in 2005, and Jan in 2012, Mike continues to create the delightful Bear adventures from his studio in Pennsylvania, in an area that looks much like the sunny dirt road deep in Bear Country.