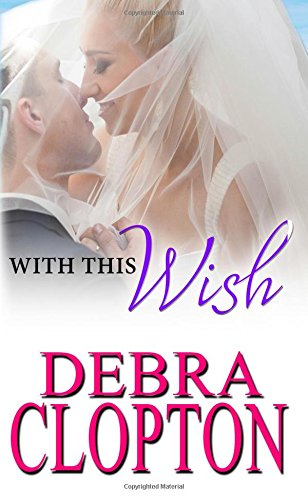 With This Wish (Windswept Bay #9) by Debra Clopton
This series is set in Windswept Bay-beach area and introduces the 9 Sinclair siblings through out the series of books.
Brothers: Levi, Cam, Jake, Max, Trent
Sisters: Cali, Shar, Olivia, Jillian
I have read all 9 books in this series and I have loved every single one of them!
In this story, Trent meets his new neighbor Lilly (who happens to be the sister of his brother in law) and is immediately blown away by her personality. Trent builds adult tree houses in his spare time so Lilly asks him to build her one for her "authors den". Lilly moves to town to be closer to her brother and to focus on her writing in a more peaceful environment.
I love that this series focuses on faith, family, love; all the while showing realistic character struggles like Trent and Lilly experiencing traumatic loses in their lives and learning to love again.
I can't wait to read about Jake in the upcoming #10 ebook! I highly recommend this fun, romantic, christian fiction series!
I received a copy of this ebook complimentary for blog and social media review. All opinions are my own.
About the book:
Trent Sinclair knows love and loss. He holds both close to his heart and private. But when he meets Lilly McCall, the sister of his brother-in-law, suddenly his life is turned upside down. Lilly McCall has been running from her past as long as she can remember. She keeps busy helping out at one national park after the other…but now her past is catching up to her and she's come to Windswept Bay looking for answers. She isn't counting on the handsome, quiet Trent Sinclair turning her world upside down and putting her wounded heart on the line. Don't miss this next heartwarming, touching story in the Windswept Bay Series~the sisters have had their love stories now its time for the brothers to get swept away by love.
Purchase your copy here:

My reviews for the other books in the series are here:
Book 1: http://empowermoms.net/2016/10/from-this-moment-on-windswept-bay-1-by-debra-clopton.html
Book 2: http://empowermoms.net/2016/10/somewhere-with-you-windswept-bay-2-by-debra-clopton-book-review.html
Book 3: http://empowermoms.net/2016/12/with-this-kiss-windswept-bay-book-3-by-debra-clopton.html
Book 4: http://empowermoms.net/2016/12/forever-and-for-always-windswept-bay-4-by-debra-clopton.html
Book 5: http://empowermoms.net/2017/01/holding-out-for-love-windswept-bay-5-by-debra-clopton.html
Book 6: http://empowermoms.net/2017/06/with-this-ring-windswept-bay-book-6-by-debra-clopton.html
Book 7: http://empowermoms.net/2017/06/with-this-promise-windswept-bay-volume-7-by-debra-clopton.html
Book 8: http://empowermoms.net/2017/06/with-this-pledge-windswept-bay-volume-8-by-debra-clopton.html
About the Author
Bestselling author Debra Clopton has sold over 2.5 million books and her holiday story, OPERATION: MARRIED BY CHRISTMAS has been optioned for an ABC Family Movie staring LeAnn Rimes. Debra writes cowboy romances, inspirational, Christian romance, contemporary and western romances set in Texas. She is known for her snappy dialogue, cowboy heroes and spunky heroines. Her awards include: The Book Sellers Best, Romantic Times Magazine's Book of the Year. She's also a Romance Writers of America Golden Heart Finalist, and a triple finalist in the American Christian Fiction Writers Carol Award. A sixth generation Texan, Debra lives on a ranch in central Texas with her husband Chuck. She loves to travel and spend time with her family. She is the author of the much loved Mule Hollow Matchmakers series where you never know what the Matchmaking "Posse" is going to do next! She has written for Harlequin and Harper Collins Christian and now with DCP Publishing with her newest series New Horizon Ranch collection. She is currently working on her 39th novel surrounded by cows, dogs and even renegade donkey herds that keep her writing authentic and often find their way into her stories. She loves helping people smile with her fun, fast paced stories. Visit Debra's website at http://www.debraclopton.com