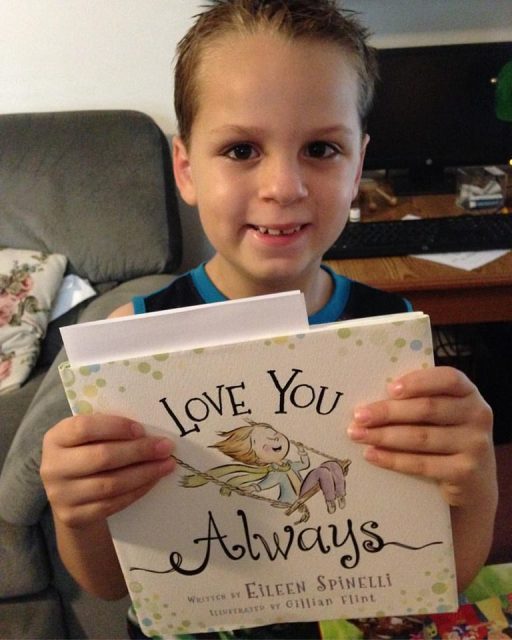 "Love You Always" by Eileen Spinelli & Gillian Flint
My son and I read the book before bed and we both really enjoyed it! It has simple words so my son was able to read it himself and out loud to me. The pictures are soft pastel colors which made it very calming to read before bed. A sweet book about unconditional love.
I received a copy of this book complimentary for blog and social media review. All opinions are my own.
About the Book:
A love poem to a child from all the people whose love surrounds him or her
A child is a treasured leaf on a family tree, surrounded by love from mom, dad, doting grandparents, aunts and uncles, and family friends too. This sweet, reassuring picture book from Eileen Spinelli acknowledges the whole tree — the many who are invested in a child's life — with expressions of unconditional love from each. Heartwarming verse and charming artwork will make this book a must-buy for baby showers, birthdays, and other occasions. Ages 4-7.
Purchase your copy here:

Author Bio
Eileen Spinelli spent Saturdays at the public library as a child, and it was there that she decided to become a writer. She's authored more than fifty children's books, including Somebody Loves You, Mr. Hatch; The Best Story; and Two to Cuddle. Eileen lives in Media, Pennsylvania. When she and her husband, Jerry, who's also an author, are not writing, they are hanging out with their grandkids (30 and counting), playing Scrabble, reading, watching old movies, and raising Monarch butterflies.
Illustrator Bio
Gillian Flint has had a passion for drawing and creating characters for as long as she can remember, so a career in illustration was a natural path for her to take. Her work has been published in the UK, USA, and Australia for clients such as Highlights, Five Mile Press, OUP, and Little Bee Books (book forthcoming). She enjoys using watercolors, crayons, ink, and digital illustration to create a variety of artistic styles. In her spare time, Gillian enjoys reading, spending time with her family, and pottering about in the garden on sunny days.