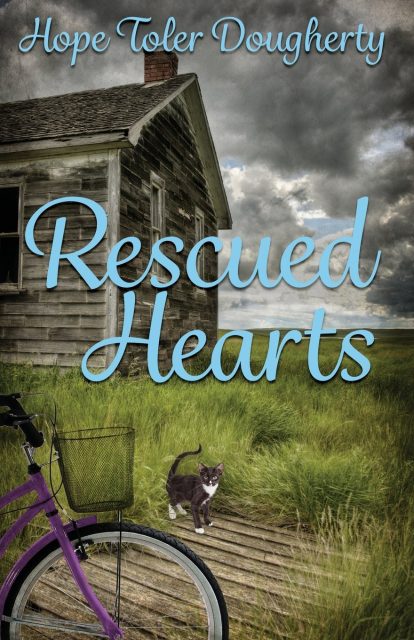 "Rescued Hearts" by Hope Toler Dougherty
"Rescued Hearts" is a Contemporary Christian Suspense Romance. I enjoyed this story although I felt the writing style could have been better. Sometimes it was confusing because the author would switch from Mary talking, Mary talking to herself in her head, and then another person talking-it just made it awkward reading sometimes.
Overall though the story kept my interest, had a steady pace, and was a good drama with some romance. I really liked both characters Mary and Brett and how they got along with eachother and worked well together.
I received a copy of this book complimentary for blog and social media review. All opinions are my own.
Her personal safety isn't the only thing in jeopardy-so is her heart. In Hope Toler Dougherty's new novel, Rescued Hearts, children's clothing designer Mary Wade Kimball's soft spot for animals leads to a hostage situation when she spots a briar-entangled kitten in front of an abandoned house. Discovering the kidnapped woman ratchets the complications for undercover agent Brett Davis. Brett forsakes his three-month mission and helps her escape, the bent-on-revenge brutes following behind . . . and then Mary Wade's safety is threatened once more.
Cozy up this fall with Hope's new book and enter to win a Kindle Fire!
One grand prize winner will receive:

A copy of Rescued Hearts
A Kindle Fire 7
Enter today by clicking the icon below, but hurry! The giveaway ends on November 13. The winner will be announced November 14 on the Litfuse blog.