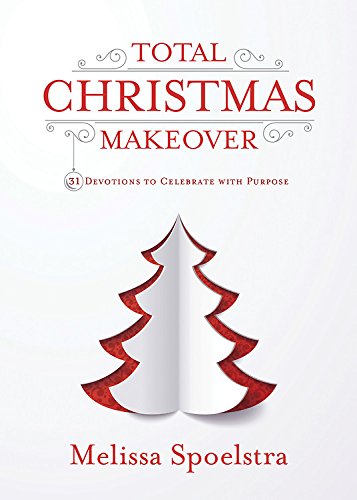 "Total Christmas Makeover: 31 Devotions to Celebrate with Purpose" by Melissa Spoelstra
This 31 day devotional is divided up into 3 sections: Ritual, Relationships and Rest. The author explains as she was looking at biblical celebrations, she noticed those three elements included in the festivities. These three sections and elements will help readers prioritize actions that will draw us nearer to Christ as we celebrate his birth-the true meaning of Christmas.
She goes on to say that as we make small changes during the holiday season, it can bring us closer to knowing our Savior and keeping him in the center of our celebrations. We can spend the next 31 days focusing on Jesus instead of the business and stress of the holidays.
The author suggests that we slow down and think about our holiday activities, rituals and plans by asking:
"Why am I doing this?"
"How will it honor Christ?"
"How will this activity impact my family?"
Each day includes a page or two of reading, scriptures, a prayer, questions for reflection with room to journal responses, and practical approach suggestions. This book was well written and I can't wait to start using it daily as we approach the month of December and prepare for Christmas.
I received a copy of this book complimentary for blog and social media review. All opinions are my own.

About the Book:
In the bustle of the Christmas season, it can be easy to get swept up in all of the things to do. But it's important to pause and remember that our priority should be to spend time celebrating Christ's birth and not forget to invite Jesus to his own party.
Christmas is far more than a celebration of an event from long ago or a modern holiday centered around shopping. Mindfully take time to listen to how God continues to speak through the Christmas story as the Gospel narratives centered around the birth of Jesus provide encouragement and revelation concerning the love of God and his wisdom for us today.
In Total Christmas Makeover, author and Bible teacher Melissa Spoelstra provides a practical approach for you and your family to turn your attention toward God's grace day-by-day as you prepare for Christmas. This 31-day devotional presents key scriptures, ideas to implement with each reading, and questions for reflection to guide you in rediscovering rituals, relationship, and rest to connect you more deeply with Christ this holiday season. 
Purchase your copy here:

About the Author
Melissa Spoelstra is a popular women's conference speaker, Bible teacher, and writer who is madly in love with Jesus and passionate about helping women of all ages to seek Christ and know Him more intimately through serious Bible study. She holds a Bachelor of Arts in Bible Theology and enjoys teaching God's Word to diverse groups and churches within the body of Christ. She is the author of the First Corinthians: Living Love When We Disagree, Joseph: The Journey to Forgiveness, and Jeremiah: Daring to Hope in an Unstable World Bible studies and the Mom's Choice Award-winning Total Family Makeover: 8 Steps to Making Disciples at Home book. She lives in Dublin, Ohio, with her pastor husband and four kids. Find her online at MelissaSpoelstra.com.