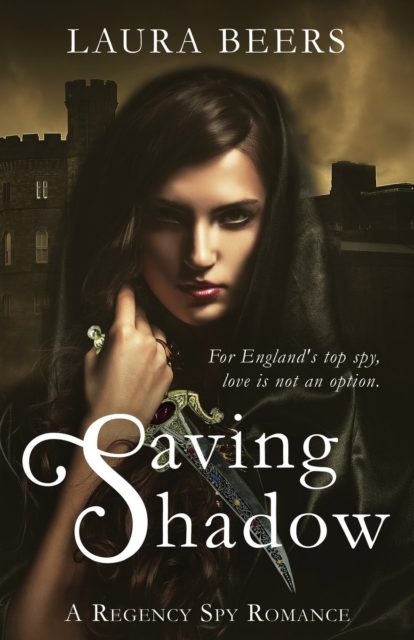 Saving Shadow (The Beckett Files, Book 1) by Laura Beers
This regency spy romance is set in England during the early 1800s. Lady Elizabeth is a fantastic character and I really enjoyed reading this thrilling story and her interactions as a spy. Along with Benedict and Jonathan-this trio sets out to find the men responsible for the kidnapping and slavery of several local women. I loved their whit and banter back and forth and how well all three of them worked together. It was heartbreaking to read about Eliza's emotional struggles with trying to protect helpless women while having to kill ruthless men in the process. Knowing she is helping, yet taking a person's life was starting to really affect her.
I also liked some of the side characters in the book like Mr. Larson, Uncle Charles and Martha. All of them had an important role in sharping Lady Elizabeth into the spy and wonderful woman she was. They also tried to help her see how important it is to have faith and love in someone, despite all the evil and wrong in the world.
I truly can't say enough about this book! It had a good ending and definitely left an opening for the author to write more books in this series. Good steady plot with lots of drama and some clean romance.
I received a copy of this book complimentary for blog and social media review. All opinions are my own.
About the Book:
Born with a perfect memory, Lady Elizabeth Beckett has become one of the world's most notorious spies, despite being the daughter of a duke. She is shielded only by her code name: Shadow. When young ladies of High Society begin disappearing from London, Eliza has no doubt who is orchestrating these crimes; a heinous man she has been investigating for years. Vowing to save them before they are sold to the highest bidder, she must risk everything to stop him.
Lord Sinclair was perfectly content being the second son of a marquess, but when his brother is murdered, he is thrust into a position he has not been prepared for and does not desire. As an agent for the Crown, he is expected to retire now that he is the heir, but he's been granted special permission for one more mission… to obtain justice for his murdered brother.
Used to keeping secrets, Lady Eliza and Lord Sinclair must learn to open up to each other when they are assigned as partners to bring down the same ruthless man and his brutal empire of abduction and slavery. As Eliza's tainted past becomes too much for her to bear alone, can she learn to trust her new partner with her secrets, her life, and possibly her heart?
Purchase your copy here:

Biography
Laura Beers spent most of her childhood with a nose stuck in a book, dreaming of becoming an author. She attended Brigham Young University, eventually earning a Bachelor of Science degree in Construction Management.
Many years later, and with loving encouragement from her family, Laura decided to start writing again. Besides being a full-time homemaker to her three kids, she loves waterskiing, hiking, and drinking Dr. Pepper. Currently, Laura Beers resides in South Carolina.