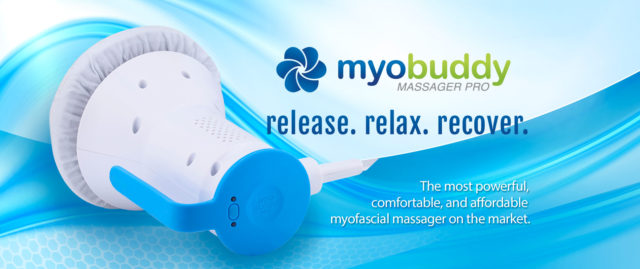 I was THRILLED to receive this MyoBuddy complimentary for blog and social media review a couple of weeks ago. My husband and I have been using it every day since we got it and both LOVE it! I have been using it specifically on my legs and lower back area post workout to help with sore muscles and recovery. I posted a couple of videos of this tool in action on my Instagram page if you want to check them out. We brought it over to my family's house over Thanksgiving weekend and it was a big hit! Everyone loved it, including my chiropractor brother!
Who would like this MyoBuddy?
*If you are an athlete that needs a tool to help with recovery, this is it!
*If you have sore muscles after a long day at work, this tool will help you!
*If you love massages, you will love this!
*If you know the value of self care, then this tool is for you!
*If you are recovering from an accident or surgery, this tool will help you!
The MyoBuddy Pro percussive massager places professional grade deep tissue, warming, trigger point and cutting edge vibrational massage technology in the palm of your hands, providing instant relief to muscle soreness and myofascial pain. It has a vibrating, oscillating disk padded with three layers of foam and comes with 2 plush microfiber bonnets. It has a 12 foot cord and 3 speeds to help with a variety of needs.
The 3 speeds are (1) Percussive Mode, (2) Massage Mode, and (3) Friction Mode.
Press the little blue button once for speed 1, then again for speed 2, a third time for speed 3, and then a fourth time to turn it off.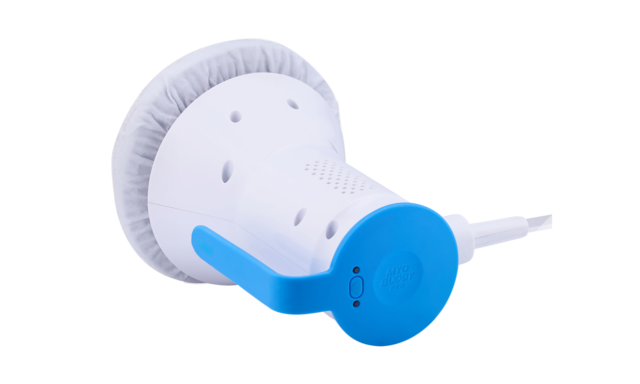 I wasn't a fan of the Percussive mode at first because I didn't understand why it was so "jumpy", but the more I read about it on their website, the more I understood the importance of it and started using it. "Percussive action results in muscular and fascial lengthening, leading to improved muscle strength and enhanced muscle recovery."
MyoBuddy Benefits include:
*Soothe sore muscles & ease Myofascial pain
*Treat trigger points & everyday aches and pains
*Warm muscles pre-workout and recover faster from workouts
*Reduce stress, anxiety and insomnia
*Improve range of motion
*Increase circulation
You can purchase your own MyoBuddy Massager Pro here:
https://www.myobuddy.com/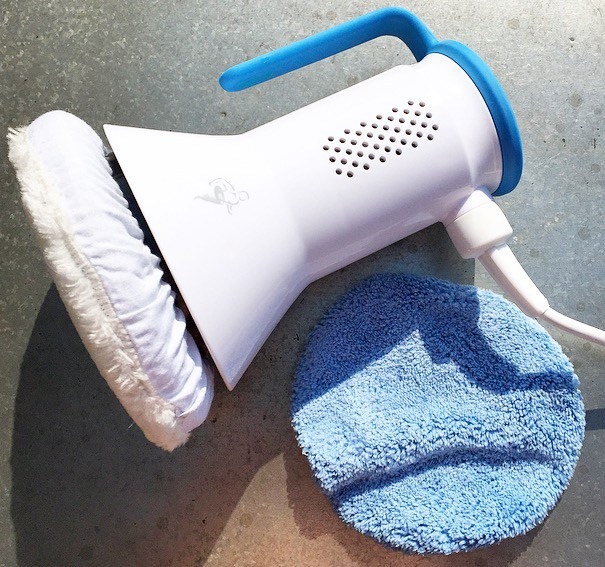 Includes 1 White Plush Bonnet and 1 Blue Lotion Bonnet
Free Shipping
30-day Money Back Guarantee
1-Year Warranty

Save $100 off your Myobuddy by using the code: SPRACHEL -code expires on 12/30
You can also purchase White and Blue replacement bonnet pads on their website which I think is awesome! It says on the website that a bonnet should be replaced about every 500 uses or every 6 months of regular use.
They have an entire page of FAQ here:
http://www.myobuddy.com.php7-34.lan3-1.websitetestlink.com/faq-2/
I found this page helpful because I wanted to know more specifically the benefits of using this tool after my workouts and how to properly wash the Bonnet pads and when to replace them.
How Does MyoBuddy help with workout recovery?
Post workout massage will keep the fascia from bunching, and push lactic acid and waste, all while oxygenating muscle cells. Treat yourself for 2 minutes immediately after working out, then for 10 minutes later in the day for optimal results. Cut your recovery time in half! Due to the rapid muscular contraction during the percussive massage, daily care results in the lengthening and strengthening of muscle tissue. This means tissue relaxation and muscular strength are each increased simultaneously! And it feels amazing. What a perfect way to lengthen and strengthen and enhance your overall muscular health!
My husband and I really liked the 2nd setting which is ideal for massages and relieving muscle tightness. We mostly used the white bonnet over top our exercise clothes as suggested in the brochure in the box. After reading the FAQ page though, I recently switched to using the blue bonnet on my bare skin which I like even better. I have found it difficult to massage my upper back area without help, so I mostly concentrate on my legs, butt, and lower back area when I massage.
I also like using the 3rd and fast speed setting on my legs to help with circulation after my workouts. The fast setting helps specifically to increase blood circulation.
Although the massager tool is strong, the handle and massager are easy to hold making it easy for someone to massage most parts of their body without assistance. I liked that the cord was long so I didn't have to worry about not having enough length to reach parts of my body.
I have really liked this massager tool and have found it very beneficial to my post workout routine as well as helping my sore/tense muscles after working all day at my office.
I feel price is definitely a factor because $400 is alot to spend on a massager tool. However, if you frequently pay for massages or have tight muscles, need help with circulation, recovery, range of motion, etc. than price doesn't get in the way of purchasing a tool that you know will help! For the price of (4) one hour massages, you can purchase your own MyoBuddy Massager Pro tool for your home!
Don't forget to use my coupon code that expires 20 12/30/17 if you're interested!
Save $100 off your Myobuddy by using the code: SPRACHEL