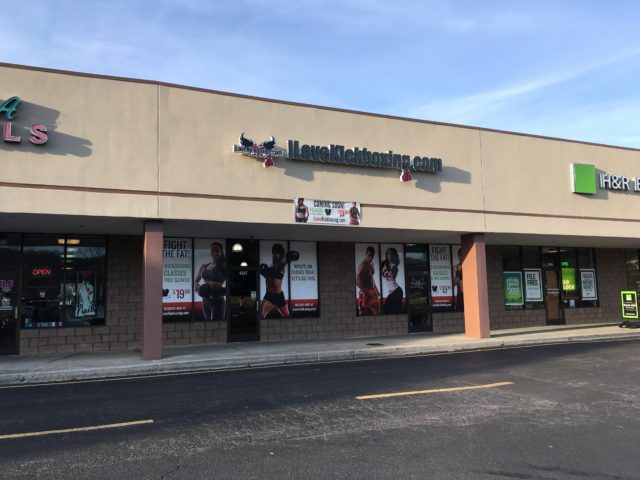 I started seeing Facebook sponsored ads for a new "I love kickboxing" studio coming to my area. I signed up in November and got a great deal-3 classes plus gloves for $9.99! I talked to the Franchise manager (owner?) Seth who explained construction was underway but they didn't expect to open until the beginning of January and he would be in tough with me to schedule my classes. So far, so good!
I then messaged Seth on Facebook the first part of January to schedule my first visit for myself, my son, and my friend Sarah for us to go in on Feb 5th. My friend Sarah even called the studio later that same day to confirm they had her info and they told her all three of us were on the schedule.
Fast forward to February 5th…. My son and I got to the studio by 4:45 and said we were there for 5pm class and they didnt have us on the schedule. The woman at the desk asked who I spoke with and I told them Seth and they acted like they didn't know who that was. I told them "Seth the owner"??? Then Becky at the front desk said she was the new manager and Seth hadn't worked there for "several weeks". (okay very weird!) I told her I made my appointment with him almost a month ago. She then explained that typically new people have to get there 30 mins early but she would help us and fit us in. She also said she didn't have time to check phone messages often and that some appointments and people's info were on a spreadsheet and some were in the computer.
My son and I filled out a page of paperwork, she gave us our boxing gloves (pink or black) and then she showed us the locker rooms. They provide unlocked lockers to put your clothes and shoes in – only socks or bare feet are aloud on the studio floor.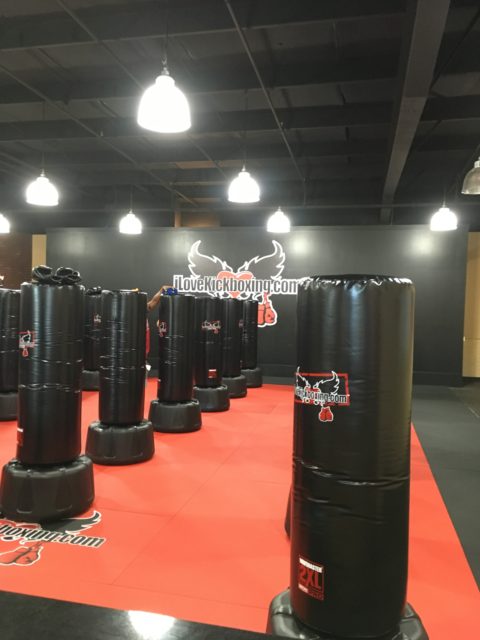 Our workout begin promptly at 5pm and started off with 10 min HIIT warmup with jogging, high knees, lunges, jump lunges, squats, jump squats, planks, pushups, burpees. (WOW-I was like this is the warm up??!! I'm going to die!) Then we did some stretching which was great. Then the rest of the class was bag work and partner work.
The guy instructor would demonstrate the combo (jab, cross. or jab, cross, hook) and then we would do that one combo move until the bell rang-it was probably around 5 mins..?? We did that for a while… I had no concept of time really because my Fit Bit Watch was under my boxing gloves.
The partner work was my least favorite. I do not like putting my gloves in front of my face for someone (my son) to practice his jab, cross, and then side hooks. I didn't like the impact on my hands and I didn't like anyone punching towards my face.
The music was very loud, upbeat, but I couldn't understand most of the words or recognized the songs. There were 2 instructors walking around helping people with their form and instructions. It was easy to follow him and hear him because I made sure I was in the middle of the room where he was so I wasn't confused.
IN MY OPINION, I would not recommend this class to beginners or for anyone who doesn't know the basic boxing movements like uppercut, jab, cross, punch, round house kick, etc. They don't review those movements with you (They didn't for my son and I and they knew we were new). They show you what to do but they expect you to have the basic knowledge I guess.
IN MY OPINION they are severally lacking in good customer service with their scheduling-they don't check messages often and they can't answer the phones when class is going on because its the front lobby area-making it very difficult for new people to schedule their classes. When you become a paying member you can apparently just show up. But to use your web special, you have to call ahead each time before coming.
After class they reviewed the memberships: It was at least a $100 sign up fee, and $125-165 per month depending on if you're "founding member" and if you select 7 or 12 month membership. Apparently there isn't a drop in rate because they didn't offer that to me when I asked.
I was really excited to try this class and some parts were fun but my left shoulder started hurting halfway thru class. I continued to push through to the end of class which left me very sore for several days even though I feel I'm in good shape.
Unfortunately, I don't plan on going back for my last 2 classes. The class was too high impact for me-it left me drained and tired instead of feeling uplifted and happy. The scheduling and disorganization is a nightmare. It concerns me that the franchise manager has already left and changed hands in the first month of opening. and the monthly cost of classes are way too high in my opinion for what little scheduling times/days they currently offer. (I pay $80 for a monthly family gym membership which includes all classes, childcare, etc and can go anytime I want for the most part 7 days a week)
Again, these are my personal opinions and experiences. Apparently these studios are franchises so I'm sure they are all different. I paid for my sons and my classes.