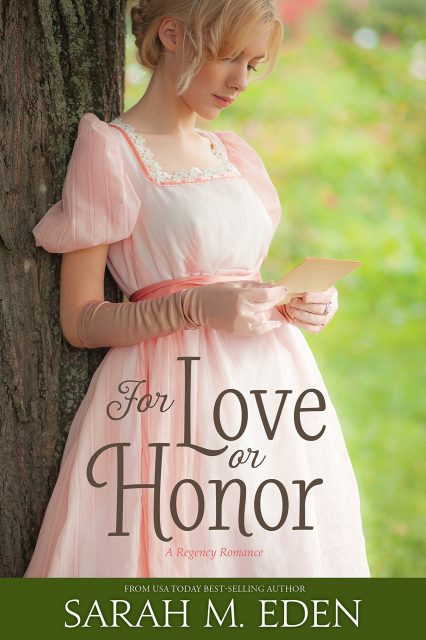 "For Love or Honor" by Sarah M. Eden
This story was very well written and I loved the main character Marjie! She was so kind and compassionate and caring towards others-even when her family members were unkind to her. She was a great example of unconditional love and kindness.
Stanley is severely wounded in the war but doesn't want to tell his family and friends how bad he is so he tries to keep them and Marjie away from him. Through out the book he allows himself to open up his heart to those around him so he can start to heal. He is conflicted about whether he should return to duty since it is the honorable thing to do, or to stay home to be with his family and allow himself time to heal.
I enjoyed reading about the time period and getting to know the characters and their relationships and hardships. I have read other books by this author and enjoyed this one as well!
I received a copy of this ebook complimentary for blog and social media review. All opinions are my own.
About the Book:
From the moment they met, Marjie's heart has belonged to handsome Captain Stanley Jonquil, younger brother of the Earl of Lampton. But six long months ago, when Stanley's sense of honor required that he do as he had sworn and return to the Continent to fight in defense of King and country, neither Stanley nor Marjie could have dreamed what the cost of his service would be.
It has been ages since Stanley last wrote, and Marjie and the Jonquil family are plagued by his unknown fate—until the day he unexpectedly reappears. Marjie's joy, however, is quickly shadowed by confusion—the aloof, battle-worn soldier before her is not the man he once was. In the wake of Stanley's blatant disinterest in renewing their acquaintance, Marjie's devastation turns to determination as she vows to help him find peace. But his scars run far deeper than anyone realizes. Despite his feelings for her, Stanley believes Marjie deserves a man whose hands are not stained with the violence of battlefields and whose mind and heart are not haunted by the horrors he has seen.
Honor requires Stanley to return once more to the life he has grown to despise, one he knows will destroy him in the end, even as his heart beckons him to stay with Marjie, the only woman he could ever love, and the promise, at last, of redemption.
Purchase your copy here:

Biography
Sarah M. Eden is a USA Today bestselling author of multiple historical romances, including AML's "2013 Novel of the Year" and Foreword Review's 2013 "IndieFab Book of the Year" gold medal winner for Best Romance, Longing for Home, and the Whitney Award's "2014 Novel of the Year," Longing for Home: Hope Springs. Combining her obsession with history and affinity for tender love stories, Sarah loves crafting witty characters and heartfelt romances set against rich historical backdrops. She holds a Bachelor's degree in research and happily spends hours perusing the reference shelves of her local library. Sarah lives with her husband, kids, and mischievous dog in the shadow of a snow-capped mountain she has never attempted to ski.