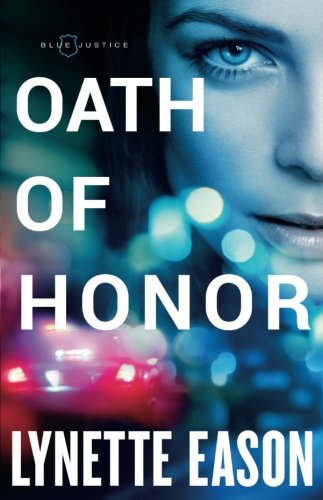 Oath of Honor (Blue Justice) by Lynette Eason
**Updated on 1/10/18 to include book giveaway**
This book was released yesterday and is book 1 to a brand new series called "Blue Justice". If you haven't read any books by this author you are definitely missing out!
Oh my gosh, this book was so so good!! Lots of action, suspense, drama and some romance. This story introduces Isabelle's brothers and sister (6 total kids) which is a perfect way to start off this new series. I also like that it was clean fiction with some christian elements.
I felt this story was very well written and I was on the edge of my seat several times riveted to the story and all of the characters. I wasn't sure how it was going to end and who the bad guys were since there were several unexpected twists. I can't wait to read more books in this series!
I received a copy of this book complimentary for blog and social media review. All opinions are my own.
***Don't forget to enter to win a copy of this book from me below! USA mailing address only. Please allow up to 4 weeks for delivery. ***
About the Book
Police officer Isabelle St. John loves her crazy, loud, law-enforcement family. With three brothers and two sisters, she's never without someone to hang out with–or fight with. And she knows they'll be there for her when things get tough. Like when her partner is murdered and she barely escapes with her own life.
Determined to discover exactly what happened, Izzy's investigation sends her headfirst into a criminal organization, possibly with cops on the payroll–including someone from her own family. With her dead partner's handsome homicide detective brother Ryan shadowing her every move, Izzy's head is spinning. How can she secure justice for her partner when doing so could mean sending someone she loves to prison? And how will she guard her heart when the man she's had a secret crush on for years won't leave her side?
With her signature fast-paced, edge-of-your-seat action, Lynette Eason invites readers into a captivating new series where justice is a family affair.
Purchase your copy here

About the Author
Lynette Eason is the bestselling author of the Women of Justice series, the Deadly Reunions series, and the Hidden Identity series, as well as Always Watching, Without Warning, Moving Target, and Chasing Secrets in the Elite Guardians series. She is the winner of two ACFW Carol Awards, the Selah Award, and the Inspirational Readers' Choice Award. She has a master's degree in education from Converse College and lives in South Carolina. Learn more at www.lynetteeason.com.