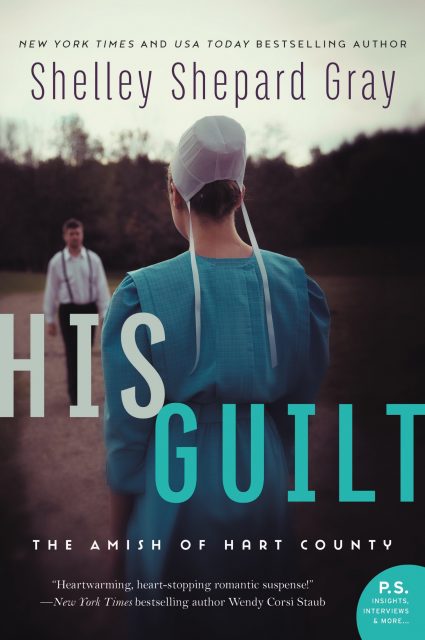 His Guilt: The Amish of Hart County by Shelley Shepard Gray
I have been enjoying this new Amish suspense series by Shelly Shepard Gray! "His Guilt" is book 2 of 3 in the Amish of Hart County series.
I didn't like the main character Mark at first. He was very rude and abrupt and defensive with others. He starts working at the local nursery and store with Waneta (Neeta) and over time starts to change how he talks and interacts with others. Neeta is a very kind woman who tried to make good choices and help others. She eventually warms up to Mark and tries to help him overcome his past. Mark had a terrible upbringing with an abusive father and a younger brother who runs away. Because Mark was accused of hurting a girl 5 years prior, he becomes a prime suspect when other local girls begin to get attacked.
I didn't care for Mark's friend Lora in this story even though her character evolved by the end of the story. She was very worldly and felt that Neeta was high and mighty because she tried to make good choices and think ahead to the future. I dont' like when someone tries to make a good person feel bad because they aren't making bad choices like others.
In my opinion this story (and series) is meant for adults, not young adults; since it deals with heavy issues like abuse, forgiveness, judging, guilt and rape.
This is a Christian book about an Amish community that deals with more serious, real life issues that we all face today. I feel like the author did a good job portraying that but still had some romance and Christian themes through out.
I received a copy of this book complimentary for blog and social media review. All opinions are my own.
About the Book:
New York Times and USA Today bestselling author Shelley Shepard Gray delivers the next novel in her Amish of Hart County series—a suspenseful tale of an Amish man who will risk all to protect the woman he loves.
Mark Fisher has returned home to Hart County, determined to put the past behind him. Two years ago, after being wrongly accused of assault, he left the Amish community, though never forgot his home. When the one person who had helped him through his rough times asks for help, Mark returns. But it is pretty Waneta Cain who makes him want to stay…
Neeta is one of the few people in Hart County who doesn't believe Mark is guilty of hurting anyone. However, his worldliness and tough exterior do make her uneasy. As she begins to see the real man behind all the gossip and prejudice, she wonders if he is the man for her. 
Just when Mark starts to believe a new life is possible, a close friend of Neeta's is attacked. Once again, everyone in the community seems to believe he is guilty.  But what hurts most is Neeta's sudden wariness around him. When another woman is hurt, a woman who is close to both Neeta and himself, Mark fears he knows the real culprit. And time is running out. Will Mark be able to find him before Neeta becomes his next victim?
Purchase a copy here:

Biography
Shelley Shepard Gray lives in southern Ohio and writes full time. A busy wife and mother of two, she spends her days writing and keeping track of her two teenagers. Her two dogs keep her company when she writes in her basement.
Shelley enjoys writing about the Amish and visits Amish communities in Adams and Holmes counties several times a year. When not spending time with her family or writing, she serves on several committees in her church.
She also bakes a lot, loves coconut cream pie, and will hardly ever pull weeds, mow the yard, or drive in the snow.
Shelley also spends a lot of time on line! Please visit her website, www.shelleyshepardgray.com to find out her latest news…or become her friend on FaceBook.