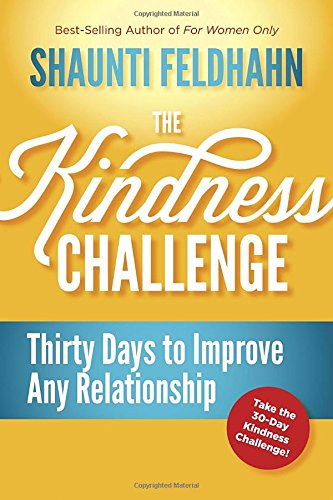 "The Kindness Challenge: Thirty Days to Improve Any Relationship" by Shaunti Feldhahn
I actually read this book and did an online 30 day kindness challenge last January so I have had this book over a year now.
I have read this book at least twice since then because I find it very practical and helpful. This kindness challenge can help with any kind of relationship-work, family, partner. I used this book and challenge towards my husband and he noticed immediately and appreciated it.
I highly recommend this book if you are wanting to make a difference in someones life and if you want to learn how to be more patient, kind and loving.
You can go to the website here: https://www.jointhekindnesschallenge.com/book to join the free 30 day challenge once you've received your book or download a sample chapter to see what the book is like.
I received a copy of this book complimentary for blog and social media review. All opinions are my own.
About the book:
One month to a great relationship… with anyone!
Think of your toughest relationship. Think of a relationship that is good but could be great. Think of a group of people that drives you nuts. You want to show more kindness and generosity, but sometimes you're just tired, stretched, and frustrated. Besides, would small actions make that big a difference? Yes!
After years of extensive research, Shaunti Feldhahn has concluded that kindness is a superpower. It can change any relationship, make your life easier and better, and transform our culture. But how does it work? And how can you show kindness when you don't feel like it?
In The Kindness Challenge, Shaunti explores….
* Three simple acts that make all the difference in any relationship (with a spouse, child, co-worker, brother-in-law…)
* Whether kindness is ever the wrong approach
* The seven ways you may be unkind and never realize it
* Eight types of kindness—and which might be the best fit for you
* Ten sneaky obstacles that get in the way of giving praise
* Practical ways to persevere when kindness is tough
* How kindness in marriage leads to benefits in the bedroom (yes, really!)
* Why your acts of kindness today can help transform the world
With self-assessments, day-to-day tips, a 30-day challenge, and specific kindness ideas, The Kindness Challenge can make your toughest relationships better and your good relationships great—starting today.
Try the 30 Day Kindness Challenge and be a part of a kindness revolution in your home, your world, and yourself.
Have We Ever Needed Kindness More?
In The Kindness Challenge, innovative researcher Shaunti Feldhahn reveals three simple steps proven to make any interaction better and any relationship thrive—whether with a romantic partner, coworkers, a child, siblings, your hard-to-please stepmother, or rude people at the grocery store. You'll learn which ways of acting, speaking, and thinking will make the greatest difference for your life.
Doing these simple acts for thirty days not only has power to change the other person—it has the power to change you!
In these pages, Shaunti introduces you to a host of people from all walks of life who have tested the 30-Day Kindness Challenge in real-life situations and have seen the difference it makes. She shows you the inspiring results of her before-and-after surveys. And she challenges you not only to try the 30-Day Kindness Challenge for yourself but to be a part of the movement to transform our culture.
Purchase your copy here: