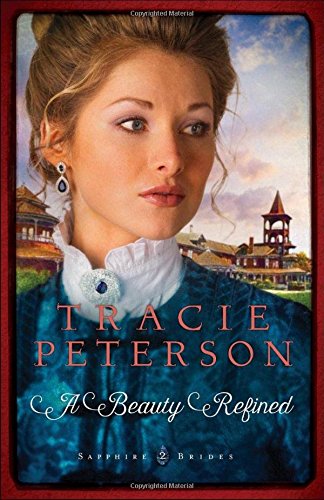 A Beauty Refined (Sapphire Brides) by Tracie Peterson
This book was released this month and is book 2 of the Sapphire Brides series. I did not read book 1, so I don't know if it would make a difference with the character development or if they are stand alone books.
Phoebe visits America with her father from Germany. While in Montana, she meets a local merchant named Ian and some of his friends. As Phoebe stays longer in America, she discovers that the people she thought she knew and loved, may not be who they seem. And perfect strangers may be able to fill her with the love and hope that she has been longing for.
I really enjoyed this book! It had a steady pace with interesting characters with some romance and drama.
I received a complimentary copy of this book from Bethany House in exchange for an honest review on my blog and social media-all opinions are my own.
About the book
Phoebe Von Bergen is excited to accompany her father when he travels from Germany to purchase sapphires in Montana. Little does she know that her father's plans–for the gemstones and his daughter–are not what they seem.
Ian Harper, a lapidary working in Helena, finds the young woman staying at the Broadwater Hotel more than a little intriguing. Yet the more he gets to know her, the more he realizes that her family story is based on a lie–a lie she has no knowledge of. And Ian believes he knows the only path that will lead her to freedom.
Meeting Ian has changed everything. Phoebe is determined to stay in America, regardless of her father's plans. But she may not be prepared for the unexpected danger as the deception begins to unravel.
Biography
Tracie Peterson is the bestselling, award-winning author of more than one hundred books. Tracie also teaches writing workshops at a variety of conferences on subjects such as inspirational romance and historical research. She and her family live in Montana.
Visit Tracie's web site at: http://www.traciepeterson.com