Today is day 1 of my Holiday Cheer Flash Giveaway!
Every day (Monday thru Friday) for the next 3 weeks, I will be giving away 1 christian fiction or non fiction book to one of you! Thats a total of 15 books to giveaway! SEE BELOW FOR FULL DETAILS!
Here is the giveaway for today: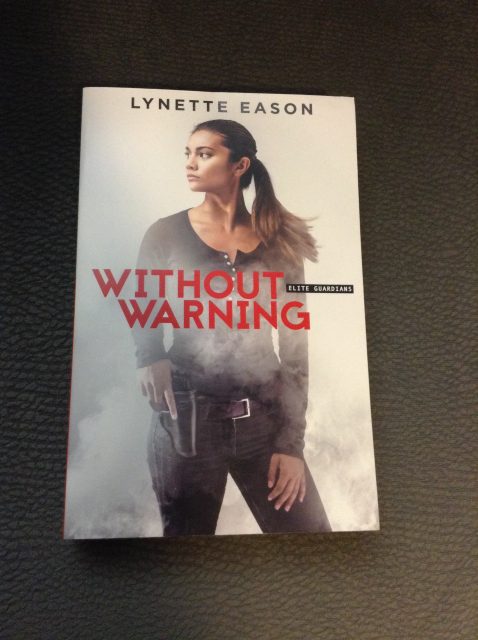 Without Warning (Elite Guardians Book #2) by Lynette Eason
Intensity. Skill. Tenacity.
The bodyguards of Elite Guardians Agency have it all.
Katie Singleton, a partner with the Elite Guardians Protection Agency, stumbles upon her next assignment quite by accident. Spotting blue lights at a familiar restaurant, she stops to investigate, only to discover that owner Daniel Matthews has become the target of someone who will go to any lengths to put him out of business.
Daniel might be concerned, but he's not convinced that a bodyguard–and a female one at that–is necessary. A new attack and his niece's urgings are enough to make him reconsider. He and Katie must figure out who's behind the intimidation and threats–before a would-be killer strikes again.
Lynette Eason is the bestselling author of the Women of Justice series, the Deadly Reunions series, and the Hidden Identity series, as well as Always Watching in the Elite Guardians series. She is the winner of an ACFW Carol Award, the Selah Award, and the Inspirational Readers' Choice Award. She lives in South Carolina.
ENTER GIVEAWAY HERE:
a Rafflecopter giveaway

➡️DETAILS:
?This giveaway will be a flash giveaway, meaning each book drawing will only be live for 48 hours so you much act quickly!
?All giveaways and entry specifics will be posted daily on my blog.
?Each day I will post the new book that will be available to win for 48 hours.
?You may win multiple times but you must have a USA mailing address.
?All books will be mailed within 2 to 4 weeks.
?All 15 books are Christian fiction or Christian nonfiction books.
?Winners will also receive some bookmarks that were generously donated by author @jilleileensmith for this holiday cheer flash giveaway!!
?Spread some holiday cheer and tell your friends and family about my upcoming book giveaways!!!