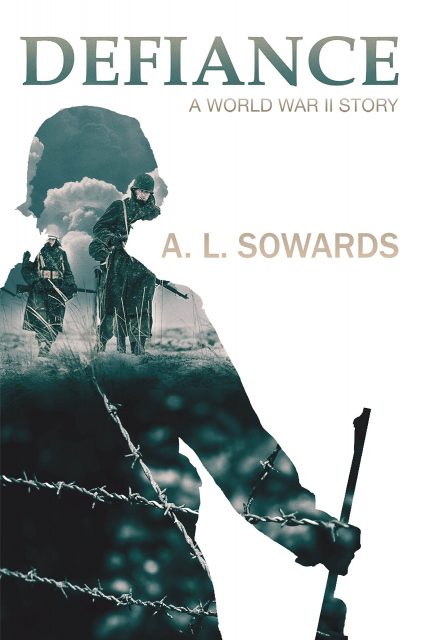 "Defiance" by A.L. Sowards
This book was released at the beginning of the month and is a fictitious story of german born Lukas as he fights in WWII for the USA and is captured in the war.
Part 1 begins in the summer of 1944 in Virginia. Part 2 begins at chapter 8 and is also in the year of 1944. Part 3 takes place in Germany during 1944-1945 at the beginning of chapter 18. and finally chapter 31 begins part 4 in the spring of 1945.
I gave this book to my 15 year old son to read for book review since he loves reading historical and war fiction books. This is his review:
Lukas was a German born American who fought right out of high school in WWII. He was on the front lines facing Germany when his company gets overrun. He is uncertain he will survive in a POW (prisoner of war) camp but you'll need to read the book to find out.
This is one book that never had a dull moment and was extremely hard to put down. It is one of the best books I have read and I would recommend it to people who are history fanatics.
I received a copy of this book complimentary for blog and social media review. All opinions are my own.
About the book
Eight years after immigrating to the United States, German-born Lukas Ley embodies the American dream: successful athlete, gorgeous girlfriend, loving family. But beneath the surface, eighteen-year-old Lukas is driven by ambition, resolved to avenge the murder of his father at the hands of the Nazi regime. Unfortunately, a failed physical throws his plans for flight school off course. Unlike his war-hero older brother, Lukas's purpose is unclear. He can't fly, and in the eyes of the military, he's good for only one thing—the front lines.
From the foxholes of war-ravaged Luxembourg to the devastation of an enormous German offensive, Lukas's journey is fraught with peril. But when he's taken as a prisoner of war, he realizes life is about to get much worse. In the enemy camp, Lukas is viewed as a German fighting for the wrong side. Ripped from the innocence of an idealistic youth, he becomes a man beaten by the horrors of war. Now his only hope of survival is to hold tightly to his faith in God and his love of family and home. But even if he manages to make it out alive, can he ever be whole again?
Purchase your copy here:

Biography
A.L. Sowards grew up in Moses Lake, Washington, then came to Utah to attend BYU and ended up staying. Now she's a busy mom with young kids, but she does her best to squeeze writing time in between naptime, stroller rides, and homework sessions. She enjoys reading, writing, learning about history, and eating chocolate, sometimes all at once. As an author, she is known for heart-pounding action, memorable characters, careful historical research, clean romance, and family-friendly language. Her novels include a Whitney Award winner and several Whitney finalists.
For more information, please visit her website, ALSowards.com