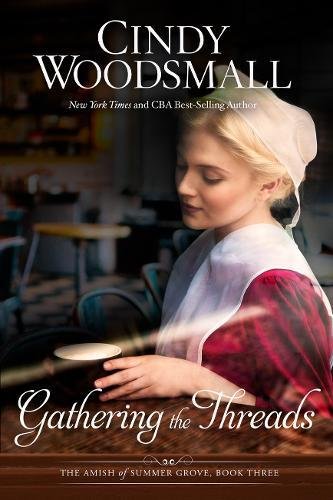 "Gathering the Threads" (The Amish of Summer Grove #3) by Cindy Woodsmall
I liked that the author included a couple pages of recap for books 1 and 2 at the beginning of this book. I found it very helpful since I have not read the other 2 books in this series.
I like that recent Amish christian fiction books have been more realistic about their struggles and finding balance in today's society-I find them more appealing and interesting.
However, I felt like this story was a little over the top with all the drama between characters and the story line. All the drama made me on edge and I had a hard time enjoying any of the characters or feeling any kind of connection to them. I really wanted to enjoy the story because it sounded interesting and there are alot of great reviews; but it wasn't for me.
It was well written so if you've read other books by this author or in this series, I'm sure you will enjoy this one!
I received a copy of this book complimentary for blog and social media review. All opinions are my own.
About the Book:
Finally back in the Old Order Amish world she loves,
Will Ariana's new perspectives draw her family closer together—
or completely rip them apart?
After months away in the Englisch world, Ariana Brenneman is overjoyed to be in the Old Order Amish home where she was raised. Yet her excitement is mixed with an unexpected apprehension as she reconciles all she's learned from her biological parents with the uncompromising teachings of her Plain community. Although her childhood friend, ex-Amish Quill Schlabach, hopes to help her navigate her new role amongst her people, Ariana's Daed doesn't understand why his sweet daughter is suddenly questioning his authority. What will happen if she sows seeds of unrest and rebellion in the entire family?
Meanwhile, Skylar Nash has finally found her place among the large Brenneman family, but Ariana's arrival threatens to unravel Skylar's new identity—and her sobriety. Both Ariana and Skylar must discover the true cords that bind a family and community together and grasp tight the One who holds their authentic identities close to His heart.
Gathering the Threads is the third and final novel in The Amish of Summer Grove series.
Purchase your copy here: