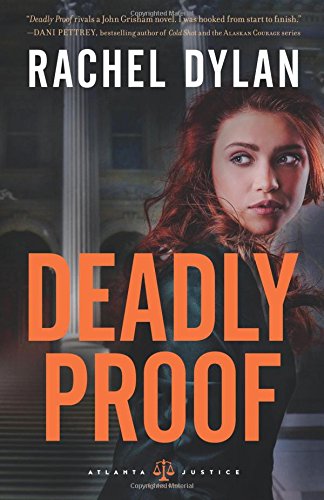 Deadly Proof (Atlanta Justice Book #1) by Rachel Dylan
"Deadly Proof" was an awesome, fast paced, legal Christian thriller. I really enjoyed reading it! The characters were great, the story was well written-not predictable at all.
Because of my legal background, I understand alot of the emotional stress that the attorneys and associates were under and the choices they have to make daily between right and wrong while fighting on behalf of their clients.
I liked the relationship development between Landon and Kate. Even though this story was a legal thriller, there were also some great Christian aspects in it like forgiveness and grace.
I highly recommend this book! Easy to read and understand even if you don't have a legal background. Just don't read this book before bed because you won't want to put it down. I can't wait for book 2!
I received a copy of this book complimentary for blog and social media review. All opinions are my own.
About the book
In the biggest case of her career, attorney Kate Sullivan is tapped as lead counsel to take on Mason Pharmaceutical because of a corporate cover-up related to its newest drug. After a whistleblower dies, Kate knows the stakes are much higher than her other lawsuits.
Former Army Ranger turned private investigator Landon James is still haunted by mistakes made while serving overseas. Trying to forget the past, he is hired by Kate to look into the whistleblower's allegation and soon suspects that the company may be engaging in a dangerous game for profit. He also soon finds himself falling for this passionate and earnest young lawyer.
Determined not to make the same mistakes, he's intent on keeping Kate safe, but as the case deepens, it appears someone is willing to risk everything–even murder–to keep the case from going to trial.
Purchase your copy here

About the author:
Rachel Dylan writes Christian fiction including legal romantic suspense. Rachel has practiced law for over a decade and enjoys weaving together legal and suspenseful stories. In addition, Rachel writes the Danger in the Deep South including "Lethal Action" and "Devoted Defender," which appeals to fans of edge of your seat romantic suspense. Rachel also writes the Windy Ridge series including "Trial & Tribulations" and "Fatal Accusation." These legal thrillers with elements of spiritual warfare are great for fans who enjoy books by Peretti or Dekker. "Trial & Tribulations" was a Selah finalist in 2016. Rachel lives in Michigan with her husband and five furkids-two dogs and three cats. Rachel loves to connect with readers.
Find out more about Rachel at http://www.racheldylan.com.
BOOK 2 Lone Witness (Atlanta Justice) coming on May 1, 2018!!
About the Book:
Prosecutor Sophie Dawson's first job in the White Collar division of the Fulton County D.A.'s office is to build a case against a local bank employee who may be cheating clients. But when circumstances beyond her control leave her as the only witness to a double homicide involving a vengeful gang, her world is turned upside down.
Former Atlanta police officer turned private security guard Cooper Knight is hired to ensure that Sophie is kept safe. But as threats escalate, they don't know who they can trust.
Sophie is determined not to back down, but her bank case gets more complicated by the day, and the gang will stop at nothing to keep her from testifying. Sophie wants to take a stand for what's right–but can Cooper, who is determined not to be distracted by their growing attraction, keep her safe so that she can finish her pursuit for justice?