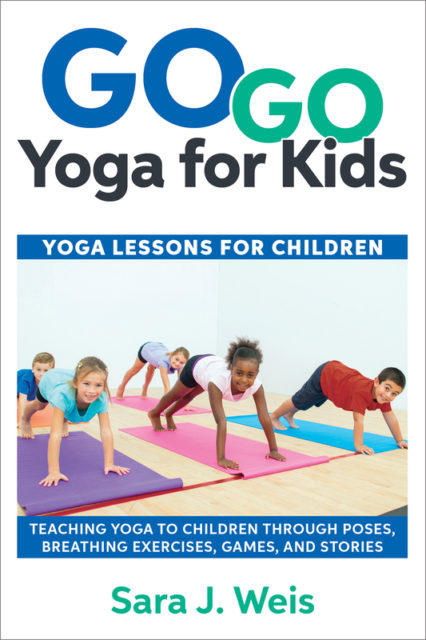 "Go Go Yoga for Kids: Yoga Lessons for Children" by Sara J. Weis
I was able to get an advanced copy of this kindle book and I have LOVED going thru it. First, I loved reading Sara's personal story which lead her to teaching kids yoga and why she creates lesson plans and how she creates them. I personally have found childrens yoga to be very helpful as well in my home with my 2 kids.
Sara explains how she has spent hours to plan kids yoga lessons to incorporate every aspect she wants to include like a theme, breathing exercises, yoga poses, picture book, music, yoga games, team building skills, etc. As a mom and a teacher she understands the importance of the lessons being relevant, engaging, fun and flexible.
By creating this Yoga Lessons book for Children she has taken out the guesswork and hours of planning so that parents, teachers, instructors, counselors, or anyone else wanting to do yoga with children can have an easier time and be inspired to have fun doing Yoga with children.
Did you know there are several benefits for Children doing yoga?
• Increases Flexibility and Balance
• Improves Concentration and Focus
• Be More Present and Mindful
• Boosts Confidence
• Promotes Health and Wellness
I love how Sara breaks down specifically what a kids yoga class should include and then follows up with examples in the other chapters. For example, BREATHING exercises should be one of the segments every kids yoga class should have; so in chapter 4 Sara goes over different kinds of breath work. Which was so fascinating to read because I didn't even know you could do that many breathing exercises!
Also included in this book are 20 ready-to-use yoga lessons along with a blank template to create your own lessons, several kids yoga games, yoga props to use and yoga mantras. I can't wait to do the "Share the Love Yoga" and "Ninja Yoga" lesson plans with my son and his friends.
Towards the end of the book, Sarah also includes some quick 10-20 min yoga lesson ideas if you don't have the time to plan a full 60 minute lesson, which I found very helpful as well.
I found this book VERY organized, easy to read, and very helpful! I can't wait to get the paperback print for my personal fitness library and to further my own yoga with my children at home.
This truly is one of the best resources you will find to incorporate Kids Yoga into your home. As a fitness professional, fitness teacher, and mom-I highly recommend getting a copy of this book! Kids Yoga has been very beneficial in our home and I can't wait to use this book more this year!
I received a copy of this ebook complimentary for blog and social media review. All opinions are my own.
About the Book:
If you are looking for ways to effectively teach yoga to children and increase their mindfulness, self-confidence, stress management, and self-control, Go Go Yoga for Kids: Yoga Lessons for Children provides all the tools and resources you will need. Parents, teachers, children's yoga instructors, counselors, and health care professionals will find this guide introduces yoga to children at a whole new level.
Go Go Yoga for Kids: Yoga Lessons for Children includes:
• Benefits of yoga for children
• Secrets to teaching yoga to children
• Breathing exercises that can help kids become calm and relaxed
• Over 150 fun and creative yoga games, activities, and challenges for all ages
• Kids yoga lesson planning guides and templates
• 35 ready-to-use unique yoga lesson plans that engage kids from the start
• The best yoga props and how to easily use them with children
• Ways to build mindfulness through meditation and mantras
• Yoga pose illustrations
• Suggestions of read-aloud books and ways to incorporate yoga and movement
• Quick and Easy No-Time-To-Plan Kids Yoga Lesson Plans
• Downloadable yoga bingo cards
This book details everything in an easy-to-follow, step-by-step format that will help you successfully teach yoga to kids of all ages. Go Go Yoga for Kids: Yoga Lessons for Children is the resource you will need to inspire children in life-long healthy ways.

Purchase your kindle copy here for only 0.99 for a limited time!


Biography
Sara is a kids yoga expert and Bestselling author of Go Go Yoga for Kids: A Complete Guide to Yoga with Kids, creator of The Kids Yoga Challenge Pose Cards, The Kids Yoga Challenge App and the author of Creative Writing Works. Kids, teaching, writing and yoga are definitely her passions and she enjoys sharing her expertise and ideas with others.
Sara has over twenty years of teaching experience in the public schools. She holds Bachelor Degrees in Early Childhood and Elementary Education as well as a Master's Degree as a Reading Specialist in Education. She currently teaches creative writing classes for elementary and junior high aged students.
Sara is also a certified kid and adult yoga instructor who makes yoga with kids or adults part of her daily routine. She leads kids yoga classes for a nationally known health and fitness club. Sara has invested countless hours creating and leading yoga games, lessons, and movement ideas with hundreds of kids.
She enjoys speaking at schools and events about being a writer and inspiring students to try their best in all that they do.
When she is not teaching, writing or practicing yoga, Sara enjoys spending time outdoors with her three yogi kids and her husband Dave. She resides in West Des Moines, Iowa.
For more information, please visit
http://www.gogoyogakids.com/