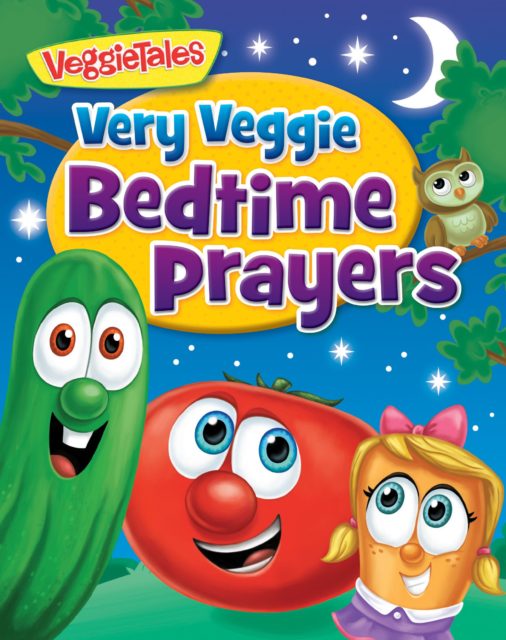 This soft padded board book is perfect for toddlers and preschoolers ages 2-5 and was just released last week!
There are all the traditional Veggie Tale characters in this book like Larry the Cucumber, Bob the Tomato, Junior the Asparagus. Each page has bright crisp pictures along with rhyming prayers on each page. There are also little scripture references on some of the pages as well. This book would be ideal to read out loud to your child before bed, as well as helping older children learn to read and word recognition.
I like that each title of the prayer is a different color so parents can also work on color recognition as well. Very well written and a fun book to add to your Veggie Tales collection!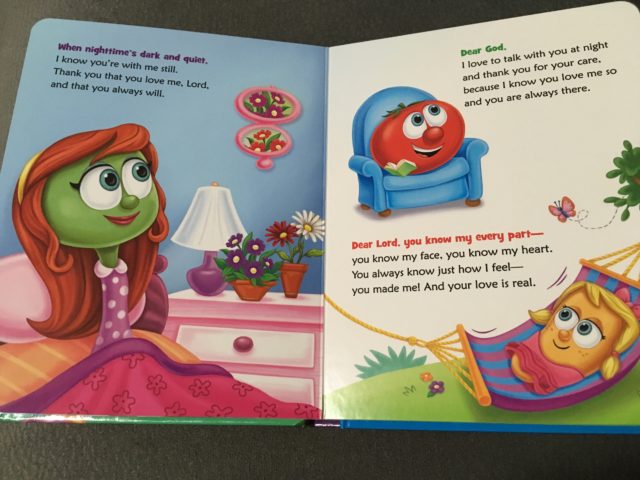 "Sometimes it's hard to get to sleep,
although I try my best.
Please calm my thoughts and feelings, Lord,
and help my body rest."
I received a copy of this book complimentary for blog and social media review. All opinions are my own.

Want to win a copy of this book? Enter below! USA mailing address only!
About the book:
A collection of bedtime prayers featuring favorite VeggieTales character
This new VeggieTales book of bedtime prayers is perfect for easing the daily transition from playtime to sweet dreams. These rhyming, toddler-friendly prayers will help teach little ones the importance of talking to God every day. Colorful illustrations of familiar VeggieTales characters accompany the short, easily understood prayers. This collection is designed to help children reflect on their day and anticipate the day to come, with requests and gratitude for God's guidance. With its soft padded cover and convenient size, this book is the perfect way to teach children about prayer and the ways God cares for us through the day and as we sleep. Ages 2-5.
Purchase your copy here


About the Author
Pamela Kennedy has authored more than thirty books for children. In her spare time she enjoys hiking, playing with her grandchildren, and exploring the beaches of Puget Sound. Pam and her husband live in Seattle, Washington.
Anne Kennedy Brady lives in Chicago with her husband and their young son. She's written half a dozen books, including several with her mother, Pamela Kennedy. When she's not writing, Anne enjoys cooking and taking long city walks with her family in search of the perfect deep-dish pizza.