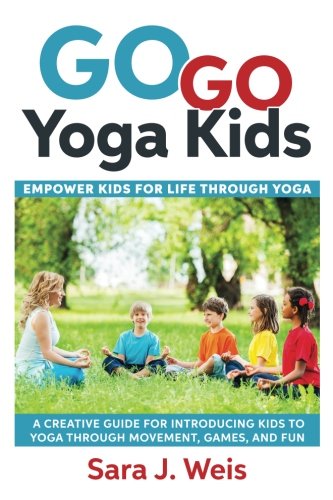 Go Go Yoga Kids: Empower Kids for Life Through Yoga: A Creative Guide for Introducing Kids to Yoga Through Movement, Games, and Fun by Sara J. Weis
Did you know that September is National Yoga month?
My son and I have been doing Yoga together for the last couple of years. He is 6 years old and really enjoys it! Kids are never too young to start.
The author of this book, Sara is in the same International Kids Yoga Day group that I am in, so I contacted her about reviewing her new book and doing a giveaway here on my blog. I love doing Yoga with my son and I wanted to share this book and the benefits of Yoga with all of you.
Top 8 Benefits of Yoga for Kids (per Go Go Yoga Kids)

1. Increases Flexibility and Strength
2. Improves Balance
3. Enhances Concentration and Focus
4. Practices Being Present and Mindful
5. Boosts Confidence
6. Promotes Health and Stress Management
7. Builds Positive Peer and Social Interactions
8. Sparks Creativity and Expression
I have found that Yoga has helped me personally with my balance and stress management. It also has helped my son with his flexibility, focus, balance and relaxing before bedtime. I like to lay his yoga mat on the floor, dim the lights, and go thru his yoga kid flashcards with him before bed.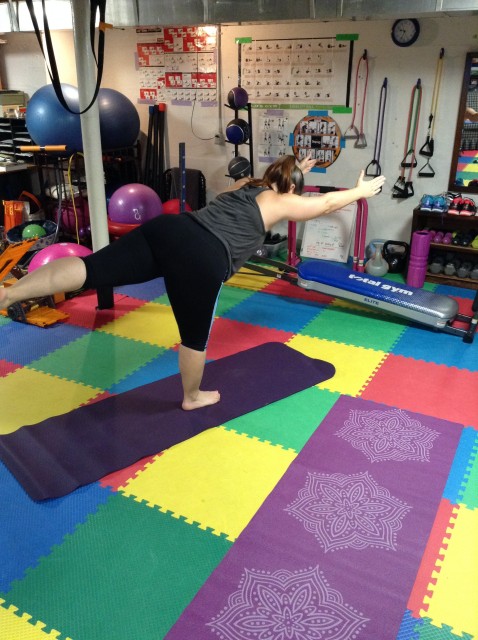 I found Go Go Yoga Kids book extremely helpful! It has chapters on how to plan a kids yoga class, yoga lessons, breathing, movement exercises, games, music, and challenges-just to name a view. There's also a chapter about tween and teen yoga.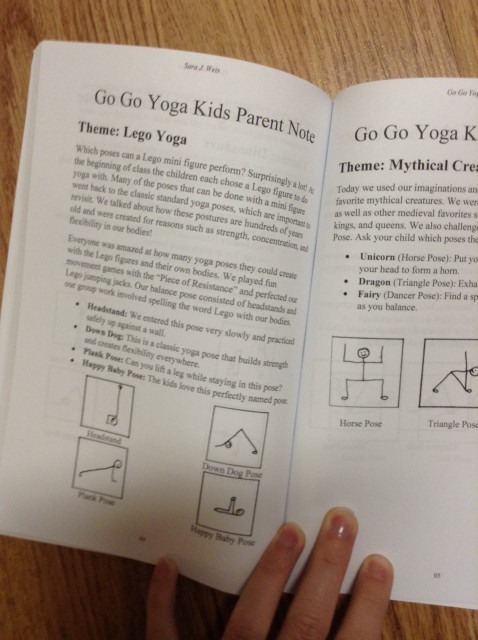 This book will help me so much with doing Yoga with my two boys and leading my kids group for International Kids Yoga day next year.
There are 12 total chapters, which also include pictures and references. I enjoyed reading the preface and introduction to get to know the author Sara better. She is definitely qualified to write this book and I appreciate all the knowledge and expertise that she shared in her book.

Don't forget to enter my GIVEAWAY below because I would love to share this book with one of you!
I received a complimentary copy of this book in exchange for an honest review on social media-all opinions are my own.
This is one of the many pictures I took last year when I lead my local No Excuse Mom and kid group on International Kids Yoga Day.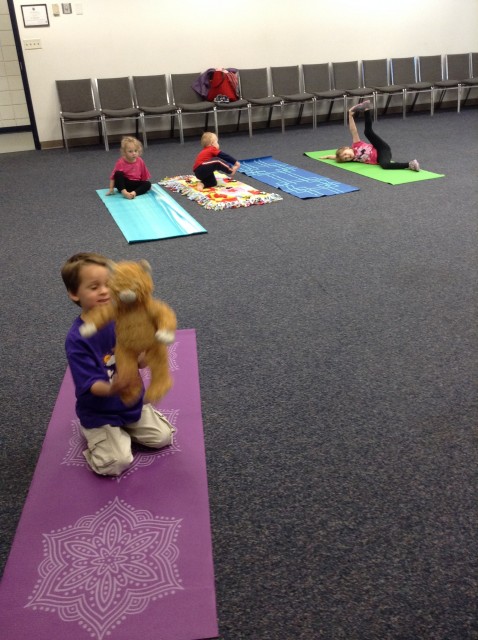 About the book:
For anyone who enjoys kids and yoga and wants to make a positive difference in their lives, Go Go Yoga Kids: Empower Kids for Life through Yoga is the book for you. It is a complete and creative guide for introducing kids to yoga through movement, mindfulness, fun, and games.
By introducing kids to yoga they will learn lifelong skills that will help them physically and mentally throughout life. Yoga can easily be incorporated in the home, school, extracurricular activities, camps, and clubs—anywhere you find kids who are ready to learn and have fun!
Go Go Yoga Kids Includes:

· Over 100 fun and creative yoga games, activities, and challenges for all ages
· fifteen ready to use unique yoga lesson plans that will have kids engaged from the start
· Ways to bring mindfulness and awareness to all children
· Kid yoga photos and pose illustrations
· Easy ways to incorporate yoga in the school setting for all types of learners and abilities
· How to get your kids involved with yoga at home
· Tips on working with teens and tweens
· Partner poses, balance activities, group, and inversion teaching tips and ideas
· Sample parent communication ideas
· Examples of where and how to teach yoga for kids
· Books, music, and other fun resources to help kids learn about yoga.
This book details everything you need in an easy to follow, step-by-step format that will help you successfully teach yoga to kids of all ages. Go Go Yoga Kids is the only resource you will need to inspire children in a healthy and lifelong way.
Purchase a copy here:

About the Author
SARA J. WEIS is a creative and passionate teacher that has inspired children for seventeen years. Through Go Go Yoga Kids: Empower Kids for Life through Yoga, she has combined her experience as an elementary and junior high teacher as well as a certified kid and adult yoga instructor to help introduce children to the lifelong benefits of yoga.
Sara holds a master's degree in education as well as bachelor's degrees in early childhood and elementary education. She has invested countless hours creating and leading yoga games, lessons, and movement ideas with thousands of kids. She knows which techniques work, and just as important, which don't work. Sara feels strongly about having all of the ideas, strategies, and lessons in one place so that anyone who works with kids will be able to introduce yoga with confidence and success.
Sara leads kids yoga classes for a nationally known health and fitness club. She lives in West Des Moines, Iowa, with her yogi children and her husband.
See GoGoYogaKids.com
USA mailing address only.
One winner will be chosen from Rafflecopter and contacted via email.
Winner will receive book in 2-3 weeks.