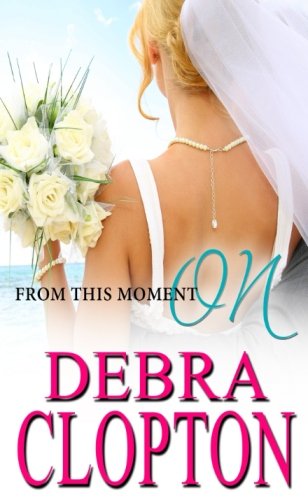 From This Moment On (Windswept Bay #1) by Debra Clopton
Cali Sinclair works on the Florida coast at her family's resort called Windswept Bay. She is caring but serious ever since she went thru an emotionally damaging divorce.
Grant is a successful painter but he can't seem to get past his survivor guilt from his plane crash. His friend Cam, Cali's brother, asks Grant to visit his family's resort and paint some murals for them.
Cali and Grant are immediately attracted to each other but both have some serious emotional troubles hindering them from moving forward in a serious relationship. The longer that Grant stays in Florida and paints for Cali, the more he wants her to love him and trust him.
"From This Moment On" was a sweet, romantic story. It was very well written and I loved the family and setting of this series. Cali has 9 Sinclair siblings which is the perfect setup for this new series by author Debra Clopton. I can't wait to read more!!
I received a complimentary copy of this ebook in exchange for an honest review on my blog and social media-all opinions are my own.
About the Book
Hurt by her failed marriage and dashed dreams, Cali Sinclair returns home to Windswept Bay with her heart wary and closed to the dreams of true love she so desperately wanted. Determined to never again risk her heart, she throws herself into running the family's small boutique resort on the Florida coast, a place so full of romance that it's a reminder every day of what she'll never have. But when renowned artist Grant Ellington shows up to paint a mural on the wall of the resort, she's swept away by her response to the artist. Suddenly, every time he looks at her, Cali finds it harder than she ever thought possible to keep her heart protected.
Grant Ellington loves his ranch, his horses, and his life as a sought-after artist. But after walking away from a plane crash that killed his best friend and the young pilot, he's still struggling with survivor's guilt as he heads to Windswept Bay. Painting a sea life mural at the resort started out as a favor to his neighbor, but one meeting with the beautiful Cali and he feels alive again—and determined to spend time on the moonlit beaches with her in his arms…
But, like him, Cali has her own emotional scars—can they learn to trust the love that sparks between them and move forward from this moment on?
You can purchase a copy here:

About the Author
Bestselling author Debra Clopton has sold over 2.5 million books and her holiday story, OPERATION: MARRIED BY CHRISTMAS has been optioned for an ABC Family Movie staring LeAnn Rimes. Debra writes cowboy romances, inspirational, Christian romance, contemporary and western romances set in Texas. She is known for her snappy dialogue, cowboy heroes and spunky heroines. Her awards include: The Book Sellers Best, Romantic Times Magazine's Book of the Year. She's also a Romance Writers of America Golden Heart Finalist, and a triple finalist in the American Christian Fiction Writers Carol Award. A sixth generation Texan, Debra lives on a ranch in central Texas with her husband Chuck. She loves to travel and spend time with her family. She is the author of the much loved Mule Hollow Matchmakers series where you never know what the Matchmaking "Posse" is going to do next! She has written for Harlequin and Harper Collins Christian and now with DCP Publishing with her newest series New Horizon Ranch collection. She is currently working on her 39th novel surrounded by cows, dogs and even renegade donkey herds that keep her writing authentic and often find their way into her stories. She loves helping people smile with her fun, fast paced stories. Visit Debra's website at http://www.debraclopton.com