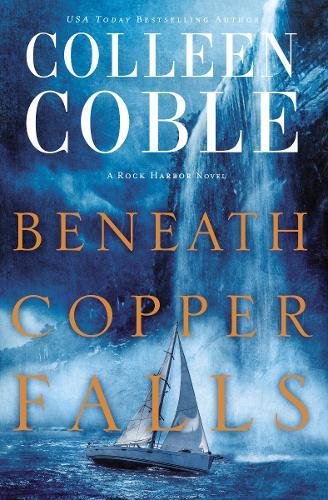 "Beneath Copper Falls" is another book is the "Rock Harbor" novel series.
Dana moves to Rock Harbor to escape an abusive fiancé and tries to start her life over with the help of her brother Chris. Dana is a 911 operator because she likes to help others and doesn't want others to experience the hurt and pain that she has felt in her life.
I absolutely loved this book! It had a good steady pace with lots of drama and suspense from beginning to end. I could not put the book down because half way thru I suspected something and couldn't wait to finish the book to see if I was right. I was gasping and riveted throughout the entire book!
I won't be letting my teenager read this book because I feel like it is too dark for him since this story deals with abuse and a serial killer. I am truly shocked with how evil some people can be or become.
Author Colleen Coble has done it again with writing another amazing book! I highly recommend her for suspenseful christian drama.
I received a copy of this book complimentary for blog and social media review. All opinions are my own.
About the Book:
As a 911 dispatcher, Dana Newell takes pride in being calm in tough circumstances. In addition to her emotionally-charged career, she's faced enough emergencies in her own life. She recently escaped her abusive fiancé to move to tranquil Rock Harbor where she hopes life will be more peaceful.
But the idyllic town hides more danger and secrets than it first appeared. Dana is continually drawn to her new friend Boone, who has scars inside and out. Then she answers a call at her job only to hear a friend's desperate screams on the other end. Soon the pain in her past collides with the mysteries of her new home—and threatens to keep her from the future she's always wanted.
Purchase your copy here:

Biography
Best-selling author Colleen Coble's novels have won or finaled in awards ranging from the Best Books of Indiana, the ACFW Carol Award, the Romance Writers of America RITA, the Holt Medallion, the Daphne du Maurier, National Readers' Choice, and the Booksellers Best. She has over 2 million books in print and writes romantic mysteries because she loves to see justice prevail. Colleen is CEO of American Christian Fiction Writers. She lives with her husband Dave in Indiana. Visit her website at http://colleencoble.com.
USA mailing address only.
Please allow 4-6 weeks for delivery.