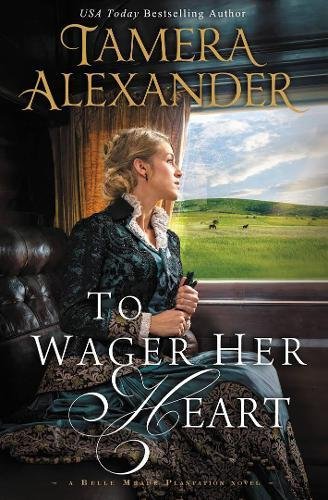 To Wager Her Heart (A Belle Meade Plantation Novel, Book 3 of 3) by Tamera Alexander
"To Wager Hear Heart" is book 3 in the Belle Meade Plantation series but each novel are "standalone novels" meaning that each book is a complete story and can be read independent of the others. But if you're planning to read them all, the author encourages readers to read them in order.
I have not read the other books in this series, but I did enjoy this historical romance. I really liked Alexandra and her love for learning and wanting to teach others. After the death of her finance, she finds herself cast our of her house after choosing to teach at a university. She isn't impressed with Sylas at first, especially because of his ties to the railroad, but they start to lean on each other and help each other through tough circumstances.
This book was rich with history and very accurate for the time period and events represented. I enjoyed reading it and it got me interested in reading other books by this author.
I received a copy of this book complimentary for blog and social media review. All opinions are my own.
About the Book:
Sylas Rutledge, the new owner of the Northeast Line Railroad, invests everything he has into this venture, partly for the sake of the challenge. But mostly to clear his father's name. One man holds the key to Sy's success–General William Giles Harding of Nashville's Belle Meade Plantation. But Harding is champagne and thoroughbreds, and Sy Rutledge is beer and bullocks.
Seeking justice . . .
Sy needs someone to help him maneuver his way through Nashville's society, and when he meets Alexandra Jamison, he quickly decides he's found his tutor. Only, he soon discovers that the very train accident his father is blamed for causing is what killed Alexandra Jamison's fiancé–and has shattered her world.
Struggling to restore honor . . .
Spurning an arranged marriage by her father, Alexandra instead pursues her passion for teaching at Fisk University, the first freedmen's university in the United States. But family–and Nashville society–do not approve, and she soon finds herself cast out from both.
Through connections with the Harding family, Alexandra and Sy become unlikely allies. And despite her first impressions, Alexandra gradually finds herself coming to respect, and even care for this man. But how can she, when her heart is still spoken for? And when Sy's roguish qualities and adventuresome spirit smack more of recklessness than responsibility and honor?
Sylas Rutledge will risk everything to win over the woman he loves. What he doesn't count on is having to wager her heart to do it.
With fates bound by a shared tragedy, a reformed gambler from the Colorado Territory and a Southern Belle bent on breaking free from society's expectations must work together to achieve their dreams – provided the truth doesn't tear them apart first.
Purchase a copy here:

Biography
Tamera Alexander is a USA Today bestselling author and one of today's most popular writers in the historical fiction genre. She and her husband live in Nashville, Tennessee, not far from the Southern mansions that serve as the backdrop for six of her award-winning novels. For more about Tamera's books, visit www.TameraAlexander.com
More about the book here:
http://tameraalexander.com/books/belle_meade_plantation_novels/to_wager_her_heart