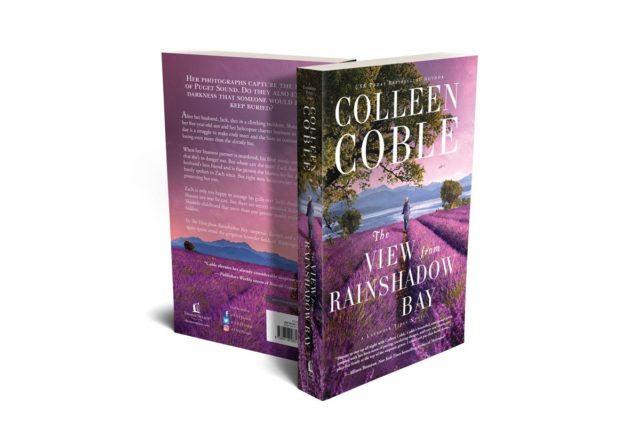 "The View from Rainshadow Bay" (A Lavender Tides Novel) by Colleen Coble
The View from Rainshadow Bay is Book 1 in the Lavender Tides Series. I have read many books by this author and I absolutly love her clean, christian, suspense novels.
This story didn't disappoint! Good steady pace with several twist and turns. Several times throughout the book there were flashbacks of previous events which helped readers understand current events like Shauna's husband death and Shauna's mothers death.
I really liked the main characters Shauna, her son, and Zach. I hope their relationship will continue in book 2. Lots of family dynamics and secrets left unsolved totally left me wanting more and hoping book 2 will answer some of my questions.
I really enjoyed this story and highly recommend this thrilling, suspenseful novel! Lots of mystery and clean romance.
I received a copy of this book complimentary for blog and social media review. All opinions are my own.
About the Book
After her husband, Jack, dies in a climbing incident, Shauna has only her five-year-old son and her helicopter charter business to live for. Every day is a struggle to make ends meet and she lives in constant fear of losing even more than she already has.
When her business partner is murdered, his final words convince Shauna that she's in danger too. But where can she turn? Zach Bannister was her husband's best friend and is the person she blames for his death. She's barely spoken to him since. But right now he seems her only hope for protecting her son.
Zach is only too happy to assuage his guilt over Jack's death by helping Shauna any way he can. But there are secrets involved dating back to Shauna's childhood that more than one person would prefer to stay hidden.
In The View from Rainshadow Bay, suspense, danger, and a longing to love again ignite amid the gorgeous lavender fields of Washington State.
Purchase your copy here:

About the author:
USA Today bestselling author Colleen Coble has written numerous romantic suspense novels including The Inn at Ocean's Edge, Twilight at Blueberry Barrens, and Beneath Copper Falls. Visit her website at ColleenCoble.com, Twitter: @colleencoble, Facebook: colleencoblebooks.