Last week I purchased this BRAND NEW Leslie Sansone dvd from Amazon. I did the entire DVD plus bonus this past Thursday night with some friends so I could post my review and pictures for you.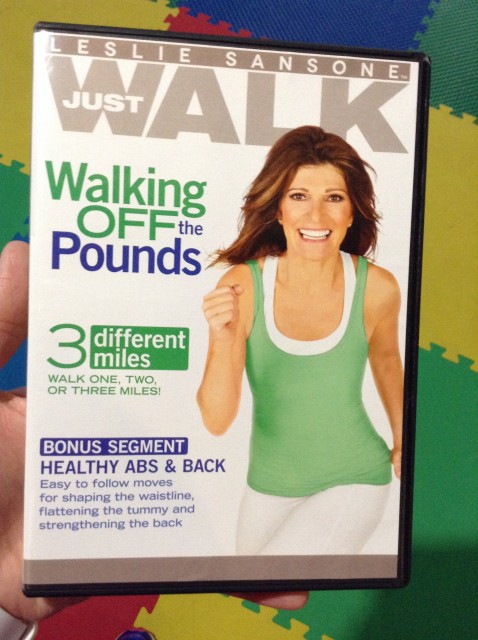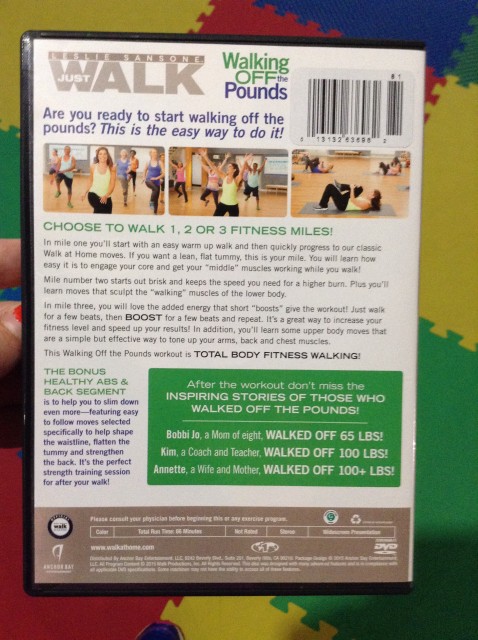 This is what the main menu looks like. You can pick and choose what mile you want to do. Mile 1 includes the warm up and Mile 3 includes the cool down.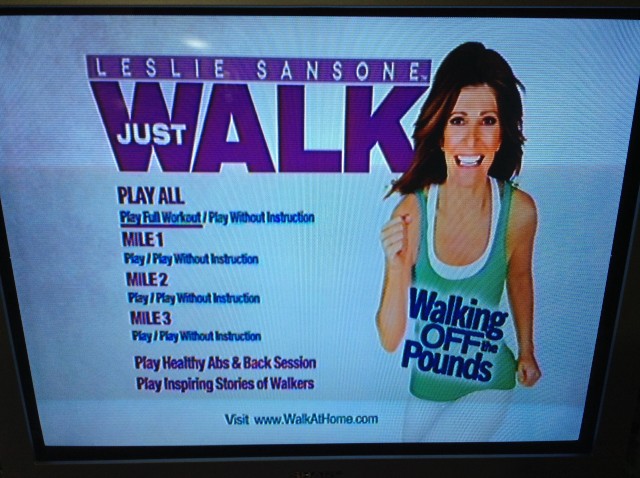 Breakdown of the DVD minutes:
0-3:00 Warm up
3:00-15:05 Mile 1
15:05-28:40 Mile 2
28:40-42:15 Mile 3
42:15-46:45 Cool down and Stretch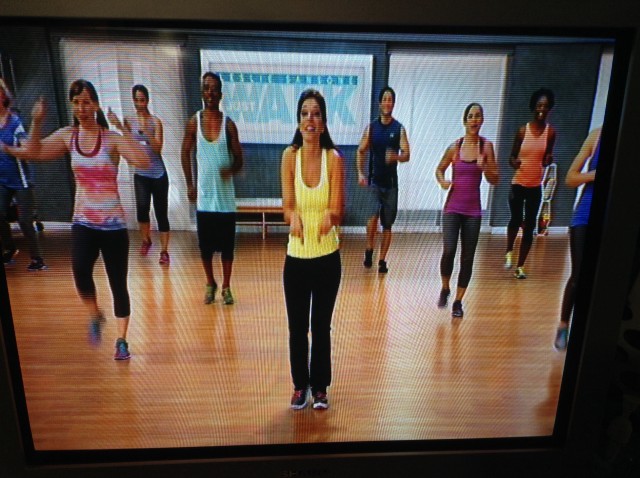 -There are no mile markers indicating mile 1, 2 and 3 transitions. Leslie tells you when you are done with each mile.
-Music is good and upbeat, no words. I recognized one or two songs from previous dvds.
-Typical fun cast including some new people!
-Movements include 8 small steps, 4 beats jogging/4 beats walking, 4 kicks then 4 knees, cha cha, squat then kick.
-There really isn't anything different about this workout except it's a newer DVD to add to your exercise rotation. I really like it though and did mile 3 and cool down again this morning.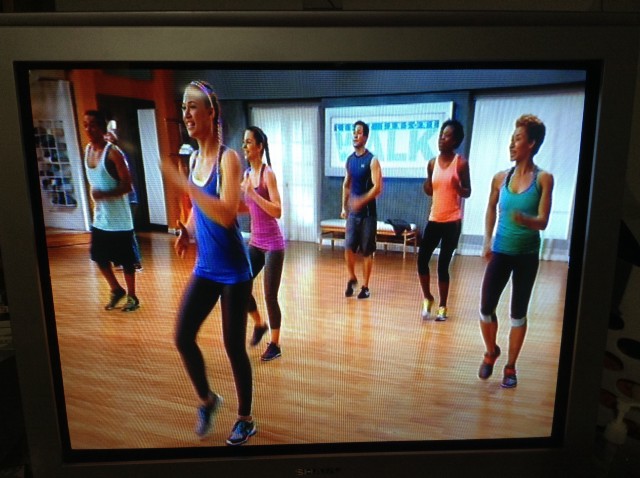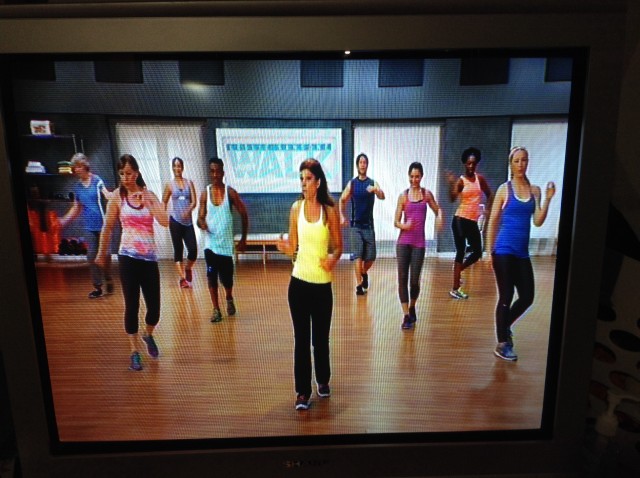 BONUS section called Healthy Abs and Back: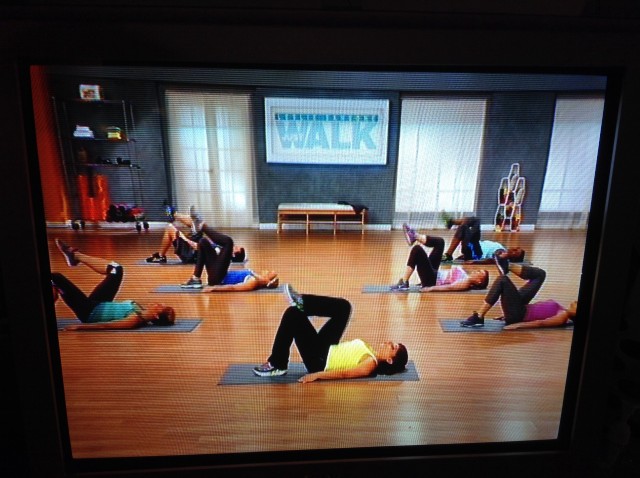 0-9:00 On the floor and on your back pilates style ab movements
9:00-12:08 Flip around onto your knees for movements
12:08-13:45 Flip back around onto your back for some last stretching
She recommends doing this bonus section three times a week. I do not recommend this segment if you have a hard time laying on your back for ab exercises or if you have any lower back/hip problems.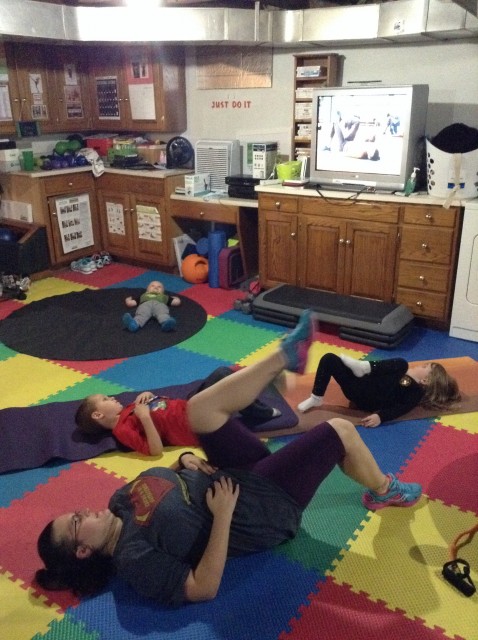 According to her heart rate monitor, my friend burned 450 calories in the 61 mins that we did this entire DVD workout!
Keep reading to see some SNEAK PEEK VIDEOS on the bottom of this post!
DVD Description:
Are you ready to start walking off the pounds? This is the easy way to do it!
CHOOSE TO WALK 1, 2 OR 3 FITNESS MILES!
In mile one you'll start with an easy warm up walk and then quickly progress to our classic Walk at Home moves. If you want a lean, flat tummy, this is your mile. You will learn how easy it is to engage your core and get your "middle" muscles working while you walk!
Mile number two starts out brisk and keeps the speed you need for a higher burn. Plus you'll learn moves that sculpt the "walking" muscles of the lower body.
In mile three, you will love the added energy that short "boosts" give the workout! Just walk for a few beats, then BOOST for a few beats and repeat. It's a great way to increase your fitness level and speed up your results! In addition, you'll learn some upper body moves that are a simple but effective way to tone up your arms, back and chest muscles.
This Walking Off the Pounds workout is TOTAL BODY FITNESS WALKING!
THE BONUS HEALTHY ABS & BACK SEGMENT is to help you to slim down even more—featuring easy to follow moves selected specifically to help shape the waistline, flatten the tummy and strengthen the back. It's the perfect strength training session for after your walk!
After the workout don't miss the INSPIRING STORIES OF THOSE WHO WALKED OFF THE POUNDS! Bobbi Jo, a Mom of eight, WALKED OFF 65 LBS! Kim, a Coach and Teacher, WALKED OFF 100 LBS! Annette, a Wife and Mother, WALKED OFF 100+ LBS!
You can buy the DVD from Amazon here:

Sneak Peek Videos: