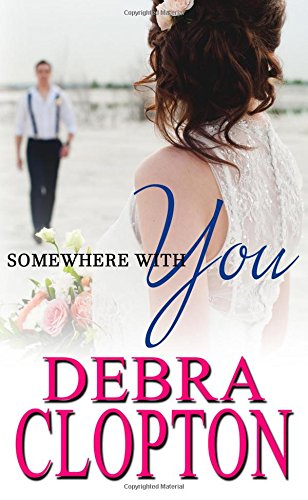 Somewhere With You (Windswept Bay #2) by Debra Clopton
When I read book 1 I immediately knew I would love this series and all the characters. In this second book I learned a little more about all the siblings which got me even more excited for future releases!
Brothers: Levi, Can, Jake, Max, Trent
Sisters: Cali, Shar, Olivia, Jillian
"Somewhere With You" follows the story of one of the sisters-Shar-as she rescues sea turtles and helps run the family resort. She meets Gage one day on the beach while rescuing a turtle and they immediately hit it off. Shar isn't wanting marriage or even a relationship but Gage is determined to spend time with her and her family anyway. They are so sweet together and I love their personalities-especially Shar!
I read this story in one sitting because I love the characters, the story line and the setting of this series. Clean romance-highly recommend!
This new series is set in Windswept Bay-beach area. There are 9 Sinclair siblings which is the perfect setup for this new series by author Debra Clopton. I can't wait to read more!!
I received a complimentary copy of this ebook in exchange for an honest review on my blog and social media-all opinions are my own.
Book 1 review is here:
http://empowermoms.net/2016/10/from-this-moment-on-windswept-bay-1-by-debra-clopton.html

About the book
Sassy, opinionated Shar Sinclair is passionate about the sea turtles she rescues in the Windswept Bay area and as needful of her freedom as they are. She's content with her life, helping run the family resort and looking out for the wildlife around her. But sometimes she wishes she had someone to share her passion, and passions, with. But that might mean giving up some of her freedom and she's not sure she could do that for anyone…
Gage Landcaster is a self-made millionaire used to getting what he wants, but lately there's an emptiness and a restlessness to his life that he can't seem to fill. While visiting Windswept Bay, he spies a beautiful woman on the beach, struggling to rescue a sea turtle tangled in fishing line, and goes to help. Gage is captivated by the fire and passion that radiates from Shar and he knows instantly he wants her. But this may be one time when what he wants might not be an option.
Sparks fly on the sunset beach and sparkling blue waters of the romantic Windswept Bay as Gage and Shar battle through their attraction. Gage is determined that this is one time he'll do whatever it takes to get what he wants. But can Shar open her heart to him? Can he convince Shar that love doesn't mean shackles…but a lifetime shared with the one you love?
About the Author
Bestselling author Debra Clopton has sold over 2.5 million books and her holiday story, OPERATION: MARRIED BY CHRISTMAS has been optioned for an ABC Family Movie staring LeAnn Rimes. Debra writes cowboy romances, inspirational, Christian romance, contemporary and western romances set in Texas. She is known for her snappy dialogue, cowboy heroes and spunky heroines. Her awards include: The Book Sellers Best, Romantic Times Magazine's Book of the Year. She's also a Romance Writers of America Golden Heart Finalist, and a triple finalist in the American Christian Fiction Writers Carol Award. A sixth generation Texan, Debra lives on a ranch in central Texas with her husband Chuck. She loves to travel and spend time with her family. She is the author of the much loved Mule Hollow Matchmakers series where you never know what the Matchmaking "Posse" is going to do next! She has written for Harlequin and Harper Collins Christian and now with DCP Publishing with her newest series New Horizon Ranch collection. She is currently working on her 39th novel surrounded by cows, dogs and even renegade donkey herds that keep her writing authentic and often find their way into her stories. She loves helping people smile with her fun, fast paced stories. Visit Debra's website at http://www.debraclopton.com.