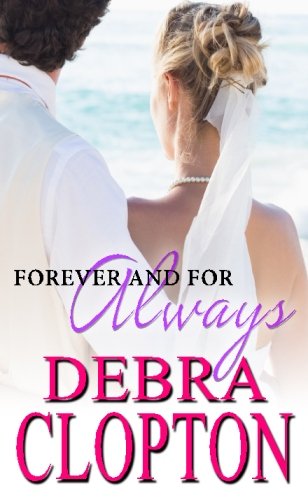 Forever and For Always (Windswept Bay #4) by Debra Clopton
This new series is set in Windswept Bay-beach area and introduces the 9 Sinclair siblings.
Brothers: Levi, Can, Jake, Max, Trent
Sisters: Cali, Shar, Olivia, Jillian
"Forever and for Always" is book 4 of the Windswept Bay. In the other 3 books we have already met Cali and Shar and this story is about Oliva. Olivia returns home after an embarrassing scandal with a Hollywood star only to run into another embarrassing situation once she returns home. Olivia is certainly not looking for romance but can't deny the sparks once she meets her brother-in-laws' brother named BJ.
This story has lots of drama and clean romance. The siblings are all interesting to read about and the different relationships they have with each other. This series has been so enjoyable! I can't wait to read more!
I received a copy of this book complimentary for blog and social media review. All opinions are my own.
Book 1 review is here:
http://empowermoms.net/2016/10/from-this-moment-on-windswept-bay-1-by-debra-clopton.html
Book 2 review is here:
http://empowermoms.net/2016/10/somewhere-with-you-windswept-bay-2-by-debra-clopton-book-review.html
Book 3 review is here:
http://empowermoms.net/2016/12/with-this-kiss-windswept-bay-book-3-by-debra-clopton.html
About the book:
Publicist Olivia Sinclair has been away from Windswept Bay for years, busy helping the Hollywood elite get out of one scandal after another. But now, she's in the middle of her own scandal and splashed all over the gossip tabloids. Suddenly, coming home to lay low in Windswept Bay is her own best advice to herself. Life as he knows it has just been altered for charter boat captain, Brandon "BJ" McCall. He's just learned he has a brother and he's inherited millions—complicated…just a little and he's not exactly sure how he feels about either. But rescuing a beautiful, Pink Kitty shorty pajama clad female from the roof of her house is a complication he can enjoy. Being rescued by a stranger who could rival any of her Hollywood clients—isn't exactly what Olivia had planned when she came home to hide out. Falling for the guy who, she learns is perfect tabloid material in his own right is not a smart PR move. She's trying to get off the cover of the gossip magazines—not hold her spot for eternity! But it's complicated. Especially, on the beaches of Windswept Bay where romance is in the air and love is a complication that just might be undeniable.
Purchase a copy here:

About the Author
Bestselling author Debra Clopton has sold over 2.5 million books and her holiday story, OPERATION: MARRIED BY CHRISTMAS has been optioned for an ABC Family Movie staring LeAnn Rimes. Debra writes cowboy romances, inspirational, Christian romance, contemporary and western romances set in Texas. She is known for her snappy dialogue, cowboy heroes and spunky heroines. Her awards include: The Book Sellers Best, Romantic Times Magazine's Book of the Year. She's also a Romance Writers of America Golden Heart Finalist, and a triple finalist in the American Christian Fiction Writers Carol Award. A sixth generation Texan, Debra lives on a ranch in central Texas with her husband Chuck. She loves to travel and spend time with her family. She is the author of the much loved Mule Hollow Matchmakers series where you never know what the Matchmaking "Posse" is going to do next! She has written for Harlequin and Harper Collins Christian and now with DCP Publishing with her newest series New Horizon Ranch collection. She is currently working on her 39th novel surrounded by cows, dogs and even renegade donkey herds that keep her writing authentic and often find their way into her stories. She loves helping people smile with her fun, fast paced stories. Visit Debra's website at http://www.debraclopton.com