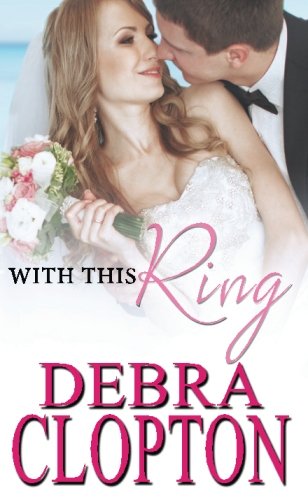 With This Ring (Windswept Bay Book 6) by Debra Clopton
I absolutely love this series-I truly can't say enough great things about it! This series is set in Windswept Bay-beach area and introduces the 9 Sinclair siblings through out the series of books.
Brothers: Levi, Can, Jake, Max, Trent
Sisters: Cali, Shar, Olivia, Jillian
This book #6 is about local school teacher Jessica, her son, and Sinclair brother Levi as they get to know each other after a very awkward encounter at the local elementary school. This story has lots of laughs and mushy "awwww" moments. Jessica is widowed and isn't sure if she can risk loving again or risk her son losing another daddy. Jessica and Levi can't help running into each other at the same places or deny the sparks between them, but is it enough for them to try a lasting relationship?
You won't be disappointed in this or other books in this series by author Debra Clopton! Clean, christian, fiction romance.
I received a copy of this ebook complimentary for blog and social media review. All opinions are my own.
About the book:
After her small son, Kevin, asked both God and Santa for a new daddy for Christmas, and then didn't find him under the tree, school teacher, Jessica Lyons is starting the new year out with a very unhappy six year old on her hands. Kevin can't understand that she's only been a widow for 2 years and she can't imagine marrying again—not yet at least. But, unknown to her Kevin has a plan and has decided that if God and Santa won't give him what he wants then maybe the police can! When the very handsome Chief of Police, Levi Sinclair shows up as Kevin's Show-and-Tell he believes, as does Jessica, that her son has asked him there to show him off as the "police chief"—it's a little awkward when Kevin introduces Levi as his next daddy! Things are getting a bit complicated on the shores of Windswept Bay! Come join the fun in With This Ring book 6 of this captivating series. You've watched the four Sinclair sisters fall in love now it's time to watch the five Sinclair brothers find the women of their dreams.
Purchase your copy here:

My reviews for the other books in the series are here:
Book 1: http://empowermoms.net/2016/10/from-this-moment-on-windswept-bay-1-by-debra-clopton.html
Book 2: http://empowermoms.net/2016/10/somewhere-with-you-windswept-bay-2-by-debra-clopton-book-review.html
Book 3: http://empowermoms.net/2016/12/with-this-kiss-windswept-bay-book-3-by-debra-clopton.html
Book 4: http://empowermoms.net/2016/12/forever-and-for-always-windswept-bay-4-by-debra-clopton.html
Book 5: http://empowermoms.net/2017/01/holding-out-for-love-windswept-bay-5-by-debra-clopton.html
About the Author
Bestselling author Debra Clopton has sold over 2.5 million books and her holiday story, OPERATION: MARRIED BY CHRISTMAS has been optioned for an ABC Family Movie staring LeAnn Rimes. Debra writes cowboy romances, inspirational, Christian romance, contemporary and western romances set in Texas. She is known for her snappy dialogue, cowboy heroes and spunky heroines. Her awards include: The Book Sellers Best, Romantic Times Magazine's Book of the Year. She's also a Romance Writers of America Golden Heart Finalist, and a triple finalist in the American Christian Fiction Writers Carol Award. A sixth generation Texan, Debra lives on a ranch in central Texas with her husband Chuck. She loves to travel and spend time with her family. She is the author of the much loved Mule Hollow Matchmakers series where you never know what the Matchmaking "Posse" is going to do next! She has written for Harlequin and Harper Collins Christian and now with DCP Publishing with her newest series New Horizon Ranch collection. She is currently working on her 39th novel surrounded by cows, dogs and even renegade donkey herds that keep her writing authentic and often find their way into her stories. She loves helping people smile with her fun, fast paced stories. Visit Debra's website at http://www.debraclopton.com