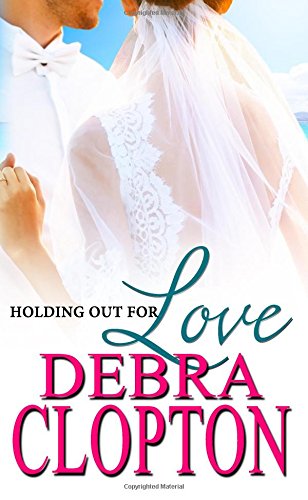 Holding Out For Love (Windswept Bay #5) by Debra Clopton
This new series is set in Windswept Bay-beach area and introduces the 9 Sinclair siblings through out the series of books.
Brothers: Levi, Can, Jake, Max, Trent
Sisters: Cali, Shar, Olivia, Jillian
I have absolutely LOVED every single book in this series. Every time I read one of the ebooks, I think its my favorite-until I read the next one! They just keep getting better and better.
This story focuses on Jill Sinclair and begins with her getting terrible news about her health from the doctor. Jill desperately wants to have children, but doesn't even have a husband and the doctor tells her that her body may not be able to get pregnant or carry any babies if she waits much longer to get pregnant.
Undercover cop, Ryan Locke returns to Windswept Bay but Jill tries to avoid him at all costs because of how embarrassing their last meeting was. Since Ryan is good friends with her brothers and parents; Jill is forced to confront her feelings and embarrassment.
Clean, romantic, fun, Christian ebook. I highly recommend this series!
I received a copy of this book complimentary for blog and social media review. All opinions are my own.
Book 1 review is here:
http://empowermoms.net/2016/10/from-this-moment-on-windswept-bay-1-by-debra-clopton.html
Book 2 review is here:
http://empowermoms.net/2016/10/somewhere-with-you-windswept-bay-2-by-debra-clopton-book-review.html
Book 3 review is here:
http://empowermoms.net/2016/12/with-this-kiss-windswept-bay-book-3-by-debra-clopton.html
Book 4 review is here:
http://empowermoms.net/2016/12/forever-and-for-always-windswept-bay-4-by-debra-clopton.html
About the book:
Jillian Sinclair needs a man and she needs him now. She dreams of being a mother-but the doctor just gave her the news that if she plans to carry a baby herself then her time is running out. She also wants true love like her sisters but will she have to settle for something less than that in order to get her baby?The last thing she needs is the only man she's loved and lost coming back to town. Undercover cop, Ryan Locke is back in Windswept Bay but for how long? He broke her heart once when he chose his career over her. Can he be the answer to her prayers or will his dedication to justice take him away from her once more? Don't miss the next book in the Windswept Bay series…fall in love once more on the sun bronzed shores of the beautiful Florida coast….And get ready because in 2017 the 5 Sinclair men will be swept away in love stories of their own.
Purchase a copy here:

About the Author
Bestselling author Debra Clopton has sold over 2.5 million books and her holiday story, OPERATION: MARRIED BY CHRISTMAS has been optioned for an ABC Family Movie staring LeAnn Rimes. Debra writes cowboy romances, inspirational, Christian romance, contemporary and western romances set in Texas. She is known for her snappy dialogue, cowboy heroes and spunky heroines. Her awards include: The Book Sellers Best, Romantic Times Magazine's Book of the Year. She's also a Romance Writers of America Golden Heart Finalist, and a triple finalist in the American Christian Fiction Writers Carol Award. A sixth generation Texan, Debra lives on a ranch in central Texas with her husband Chuck. She loves to travel and spend time with her family. She is the author of the much loved Mule Hollow Matchmakers series where you never know what the Matchmaking "Posse" is going to do next! She has written for Harlequin and Harper Collins Christian and now with DCP Publishing with her newest series New Horizon Ranch collection. She is currently working on her 39th novel surrounded by cows, dogs and even renegade donkey herds that keep her writing authentic and often find their way into her stories. She loves helping people smile with her fun, fast paced stories. Visit Debra's website at http://www.debraclopton.com