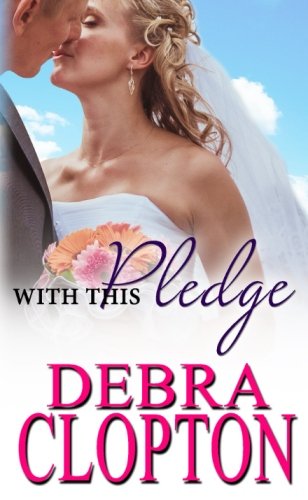 With This Pledge (Windswept Bay Volume 8) by Debra Clopton
This series is set in Windswept Bay-beach area and introduces the 9 Sinclair siblings through out the series of books.
Brothers: Levi, Cam, Jake, Max, Trent
Sisters: Cali, Shar, Olivia, Jillian
Even though Max's brothers and sisters are finding love, Max is content with his special ops missions and returning home to his pet pig Charlotte. However when Max gets severely injured and has to return home indefinitely, he struggles with what to do with his life and how to help others. He meets Kelsey, the new manager at his brothers new horse stable and is drawn to her but she is very adamant that she doesn't date military men. They are both scared of the future but can't deny their growing attraction towards one another.
I loved reading more about the horse stable that was introduced in the previous book and the upcoming wedding. I love how close the family and siblings are to each other and how they help each other thru emotional trials.
I'm looking forward to reading more of Max and Kelsey's story as this series progresses. Book #9 is suppose to be released in August.
I received a copy of this ebook complimentary for blog and social media review. All opinions are my own.
About the book:
After a special ops mission gone terribly wrong, Max Sinclair is home and facing the possibility of losing the career he loves serving his country. When he meets his brother's new stable manager he is drawn to her and feeling more alive. After a bad situation with her ex-boss, horse trainer Kelsey Malone accepted the job of running seaside stables in the Windswept Bay for Cam Sinclair. The moment she sees Max at Cam and Lana's engagement party she's attracted to him. But her dad was career military and gave his life for his country-Kelsey's vowed she'll never go through that again and doesn't date military men. But things get complicated when her ex-boss shows up and Max steps in to protect her. Can love heal these two wounded soul's hearts? Welcome back to the beautiful sunset shores of Windswept Bay, where the romance continues for the Sinclair brothers.
Purchase your copy here:

My reviews for the other books in the series are here:
Book 1: http://empowermoms.net/2016/10/from-this-moment-on-windswept-bay-1-by-debra-clopton.html
Book 2: http://empowermoms.net/2016/10/somewhere-with-you-windswept-bay-2-by-debra-clopton-book-review.html
Book 3: http://empowermoms.net/2016/12/with-this-kiss-windswept-bay-book-3-by-debra-clopton.html
Book 4: http://empowermoms.net/2016/12/forever-and-for-always-windswept-bay-4-by-debra-clopton.html
Book 5: http://empowermoms.net/2017/01/holding-out-for-love-windswept-bay-5-by-debra-clopton.html
Book 6: http://empowermoms.net/2017/06/with-this-ring-windswept-bay-book-6-by-debra-clopton.html
Book 7: http://empowermoms.net/2017/06/with-this-promise-windswept-bay-volume-7-by-debra-clopton.html
About the Author
Bestselling author Debra Clopton has sold over 2.5 million books and her holiday story, OPERATION: MARRIED BY CHRISTMAS has been optioned for an ABC Family Movie staring LeAnn Rimes. Debra writes cowboy romances, inspirational, Christian romance, contemporary and western romances set in Texas. She is known for her snappy dialogue, cowboy heroes and spunky heroines. Her awards include: The Book Sellers Best, Romantic Times Magazine's Book of the Year. She's also a Romance Writers of America Golden Heart Finalist, and a triple finalist in the American Christian Fiction Writers Carol Award. A sixth generation Texan, Debra lives on a ranch in central Texas with her husband Chuck. She loves to travel and spend time with her family. She is the author of the much loved Mule Hollow Matchmakers series where you never know what the Matchmaking "Posse" is going to do next! She has written for Harlequin and Harper Collins Christian and now with DCP Publishing with her newest series New Horizon Ranch collection. She is currently working on her 39th novel surrounded by cows, dogs and even renegade donkey herds that keep her writing authentic and often find their way into her stories. She loves helping people smile with her fun, fast paced stories. Visit Debra's website at http://www.debraclopton.com